HTC Vive - Specification
General
Rating

Immersion

9.0

Interaction

9.0

Comfort

6.0

Ecosystem

7.0

Setup

6.0

Usage

For PC

For Smartphones

For quadcopter

Operating system

Minimum system requirements

Dates

Release

2016/04/05

Design
Body

470

gram

512

gram

Display
Type

Availability

AR - See-through

PenTile OLED

Size

3.6

inches

Smartphone screen

N/A

Field of view horizontal

110

°

Resolution

1200×1080

px.

Features

Latency

22

ms.

90

Hz.

Adjusting

Present

Focal length

Camera
Front camera

Number

1

System
Synchronization

Android

iOS

Blackberry

Windows

PlayStation

GPU - Video card

N/A

Support

SteamVR

Oculus Home

Windows Mixed Reality

Gear VR

Viveport

PiHome

Integration

Games

3500

Interfaces
Video

HDMI

1.4

HDMI 2.0

DisplayPort

Wi-Fi

+$

USB

USB

USB 3.0

USB 2.0

USB type-c

Charger connector

HDMI support

Multimedia
Sound

Headphone input 3.5mm

Microphone

Power
Battery

N/A

Replaceable

Battery life

N/A

Features
Conrol

3DoF Turning head

Tracking

3DoF Rotation tracking

6DoF Positional tracking

Tracking area

Contents
Contents

Manuals

USB cable

2

HDMI cable

2

DisplayPort cable

HDMI repeater

1

Headphones

1

Touch control panel

Motion controller

SteamVR Tracking

Lighthouse

2
HTC Vive Review
HTC Vive
is one of the most popular VR-devices in the world which provides access to a huge number of games via the SteamVR platform. The virtual reality HTC glasses have one of the largest gaming space, which allows not only to change the viewing angle but also to move around in the gaming space and to track the location of the user's hands.
The first versions of the device released in April 2016 were sold at a price of 799
USD
. Since then, not only many updates for the HTC Vive firmware, but also a large number of accessories designed to simplify the use of VR glasses were released:
June 2016 — the release of a 'business version' with an extended cable connection with PC and Deluxe Audio Strap with built-in headphones
November 2016 — the wireless connection unit with PC (TPCast) was released
June 2018 — testing of a new type of Knuckles controller was started by the game developers for SteamVR
Pros of HTC Vive
A large area of
gaming space
, which allows you to play more active games with a greater degree of immersion in the virtual world;
More than
3000 games
in SteamVR;
The ability
to run Oculus Home games
using Revive;
High
accuracy of tracking
due to the use of base stations;
It is possible to connect
your own 3.5 headphones
and to output the sound to computer speakers;
A wide choice of
accessories
;
Possibility of
wireless
connection when buying TPCast.
In addition to games, there are various programs for digital art lovers and artists which provide an opportunity to draw 3D objects.
User-friendly SteamVR interface and convenient backlighting of real-world objects increase the security of HTC Vive.
Controllers provide users with full freedom of movement during the game (6DoF).
Cons of HTC Vive
It is much more
expensive
than its equivalents: Oculus Rift, Lenovo Explorer, Samsung Odyssey;
An expensive
high-performance PC
is necessary for the high-quality operation of the device;
A thick wire
. The wire is often found under the feet at the most inopportune moment and can press the neck as well;
Relatively
heavy weight
of the device and wires;
Low resolution
of the screen, you can see pixels;
The necessity of mounting and presetting base stations;
The headset does not fit the head tightly with the standard strap, for its comfortable usage you will have to buy a pricey Deluxe Strap.
Main competitors of HTC Vive
Oculus Rift is a cheaper model with a similar quality image, more ergonomic controllers, but with a smaller gaming space and a smaller number of games.
HTC Vive Pro is more advanced and more expensive model, which is comfortable to use. The image quality has improved by 70% and the area of gaming space has increased twice.
Windows Mixed Reality is a range of VR devices from Samsung, Lenovo, HP which are cheaper, have improved image quality, but have less accuracy of tracking and a very limited number of applications (about 600 at Steam).
Design and ergonomics of HTC Vive
The glasses have a rather heavy (almost 500g) convex body made of black plastic with small dimples on the outside. There is a camera in the lower part in the middle.
At the bottom of the glasses there is a knob responsible for adjusting the optics in accordance with the interpupillary distance (IPD). Additional knobs on the sides provide an adjustment of the lens distance, which can be useful for people who wear glasses. Some users note that the device is not suitable for all types of glasses and even can scratch the lenses, so it is recommended wearing HTC Vive only with small rectangular-shaped glasses.
Additional feature is a removable soft pad for the face. As time passess, it becomes unusable and it can be replaced by a more dense, high-quality leather pad. Compared to Oculus Rift, the face does not sweat much thanks to the quality material.
Wires are another drawback of ergonomics, especially if you want to move more and actively play inside gaming space. There are two solutions to this problem: to purchase a TPCast wireless connection unit or to use the retractable cable with a ceiling mount.
Display and lens of HTC Vive
The resolution is 1200x1080 px. for each eye, by mid-2018 it significantly falls behind newer models, including HTC Vive Pro.
The viewing angle is 110 degrees, and for 2018 this is a standard indicator for similar VR devices. Taken into account that an average viewing angle of a person is 180 degrees, a viewing angle of 110 degrees does not allow to use the peripheral vision during games.
Despite the "photorealism claimed by HTC it will not be difficult for a user to distinguish between objects of virtual reality and real objects. Objects in games do not suffer from excessive pixelization, but when you try to read the text at a certain distance, it can be blurred.
With a powerful video card, you can improve the graphics performance. To do this, go to SteamVR > Settings > Developer and find the Supersampling adjustment slider, where you can increase the rendering level, which will increase the image sharpness. However, even when using the most powerful video adapters, it is not recommended setting a number higher than 2.5 — this will lead to unstable glasses work and image artifacts.
HTC Vive controllers
Time of charging
2 hours
Battery life without recharging
~10 hours
Type of network connection
Wireless
Way of charging / updating
Micro-USB
The number of buttons
4
The number of virtual buttons
4 (touchpad clicking)
The number of sensors
24
Weight
543 g. per piece
Cost of a separate controller
130

USD
Control during games is carried out by two main buttons — a touchpad with a mechanical clicking and a trigger for the index finger. The controllers are provided with straps which can be put on hand to hold the device firmly in hand during the game, although users note that it is quite difficult to drop the devices. The controllers are heavy and it is rather difficult to forget about them during the game. There is a built-in vibration for tactile sensations in games. Due to the high quality of the assembly, the controllers can withstand even very strong hittings against the surrounding objects. Devices are connected by air with glasses, and not with a PC, so Vive Headset is a hub for all devices.
Among the disadvantages it is worth mentioning its cumbersome and less ergonomic shape in comparison with the PS or Oculus controllers
Periodically, the controllers lose their orientation when they are placed in the corners of the polygon or when the line of sight is blocked by a user him/herself
The Grid button is not convenient enough compared to the Oculus Rift controllers
The trackpad can fail to function over time and it stops working in the upper or right direction
The menu button under the trackpad is often accidentally pressed by users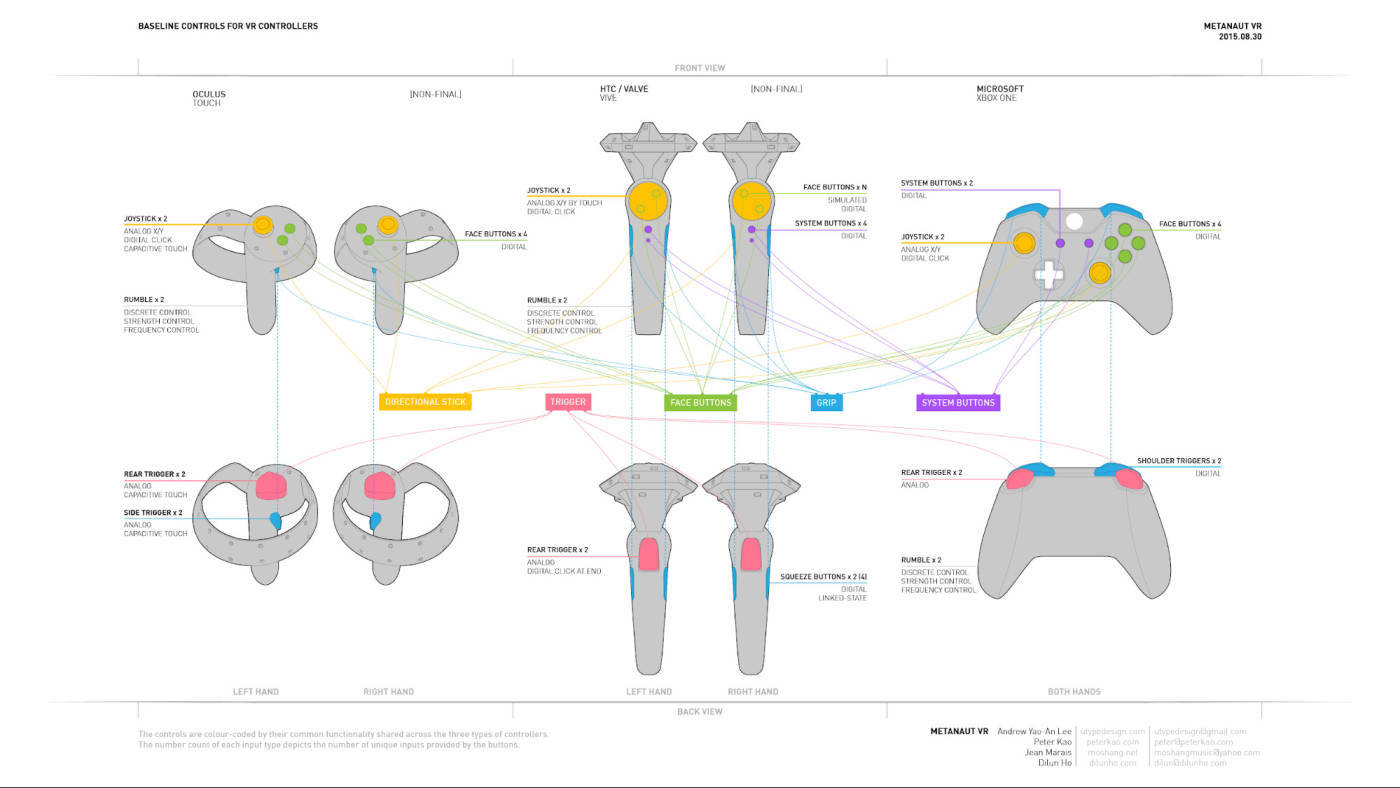 HTC Vive base stations and gaming space
Two Vive Base Stations can be placed either on the wall or at high cabinets or shelves. The stations are almost noiseless, and the latest versions do not need to be connected with each other by wires, which advantageously distinguishes them from other devices. This system is also known as Lighthouse which uses Valve — an American partner of HTC. Its only drawback is the length of the power supply cables of the stations, although this problem can be solved with a small change or with the help of an extension cable.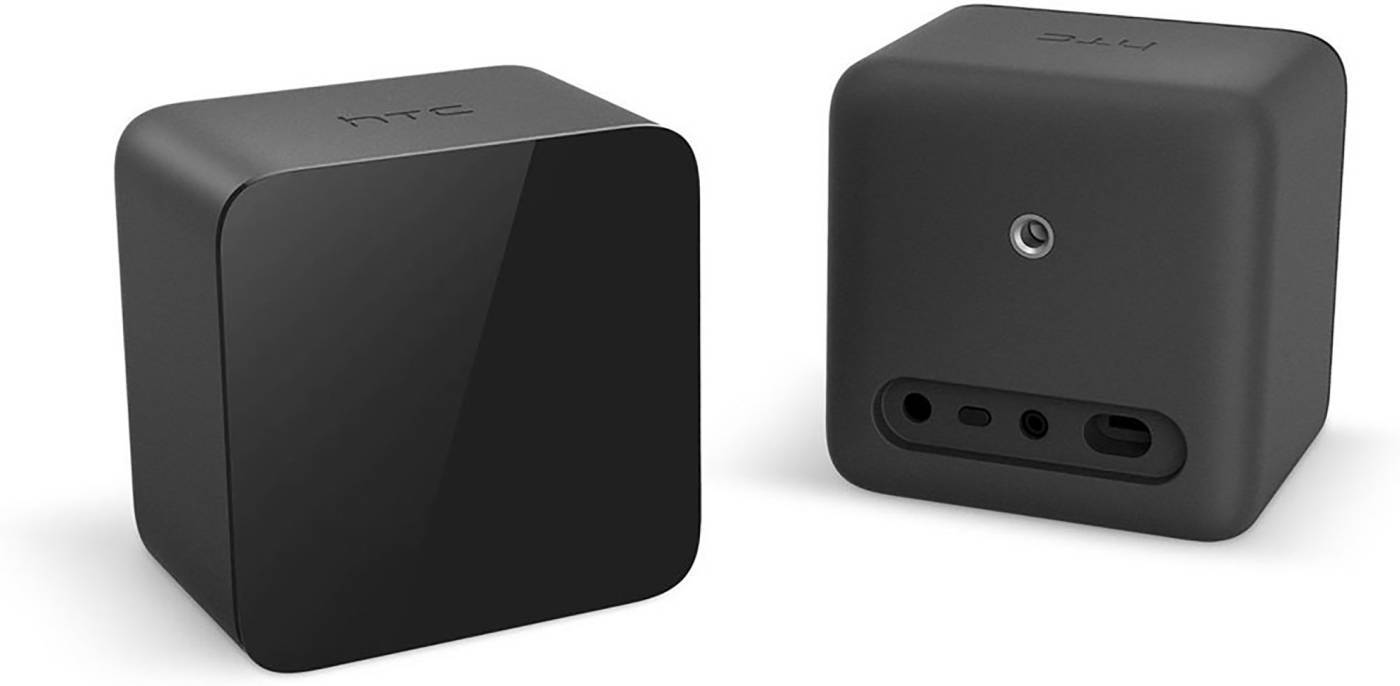 Instead of mounting the base stations on the walls you can use tripods. In each station, holes with standard thread sizes are provided. The easiest way is to use tripods for lighting equipment or GorillaPod. The latter can be installed on anything, including a shelf or a central heating pipe. However, the usage of tripods reduces the size of the game room and increases the chance to touch them with controllers during games.
A distinctive feature is a remote connection to the glasses themselves. Stations only need to be connected to outlets through a power supply unit. The Micro-USB connector is used to update the firmware of the base stations, although this can also be done via Bluetooth.
HTC Vive allows you to play on an area of 3 by 4 meters (for PS VR it is 2.5 x 2 meters, and for Oculus Rift it is 1.5 x 3.5 meters) and not to limit yourself in movements if there is an adequate area.
A useful feature that many users like is the backlighting of contours of real-world objects called Chaperone (users sometimes call it tron mode). When approaching a real object in the room, a user will see a blue outline which will allow him to stop on time. Nevertheless, in very mobile games, a user may not have time to react when the grid appears and can damage the controller or surrounding interior items.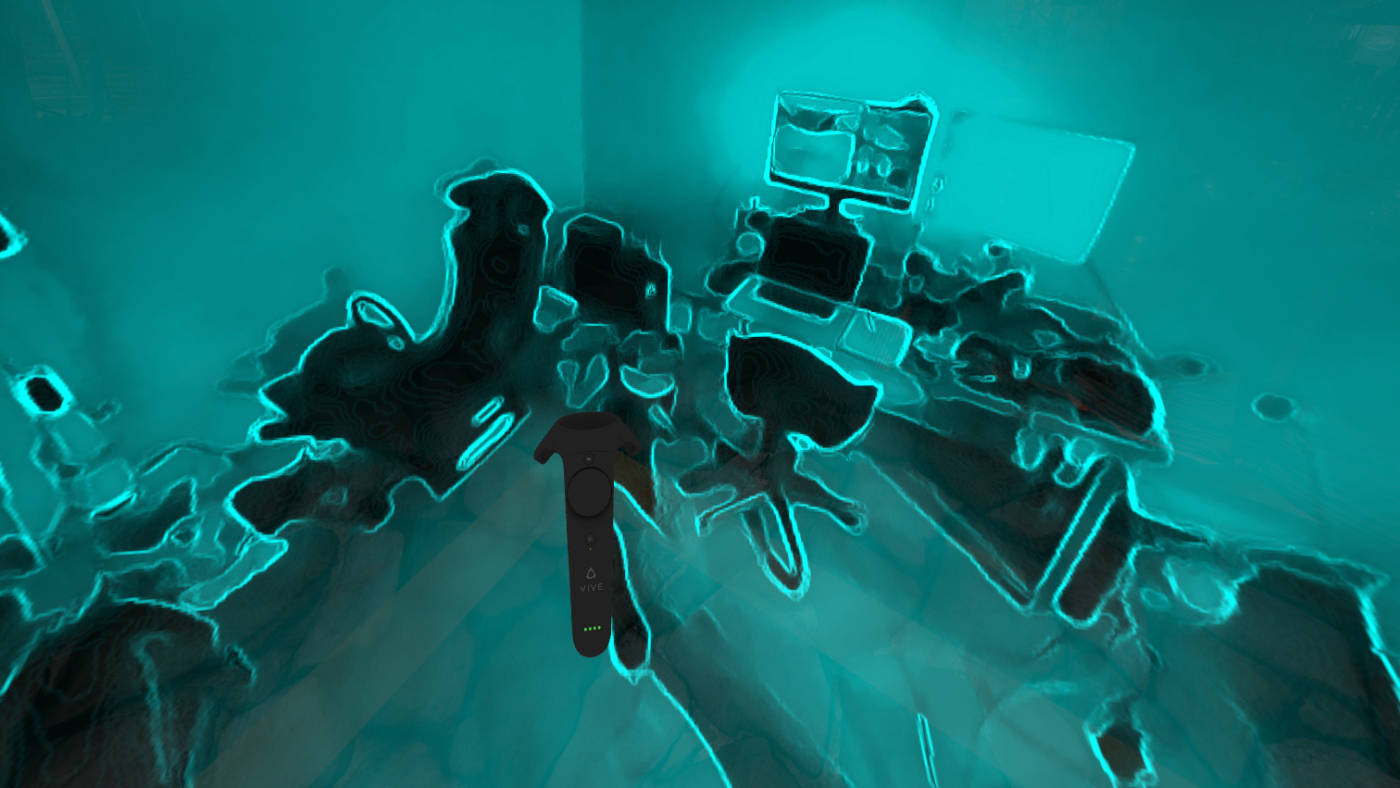 Software of HTC Vive
To use the device, a user will need to install
Where to download games for HTC Vive
| Service | Games | Free games | Comments |
| --- | --- | --- | --- |
| Steam | 3,375 | ~1000 | All games with the tag Headsets - HTC Vive |
| VivePort | 1055 | ~351 | Mainly the same games as in Steam |
| Oculus Home | 350 | 259 | The installation of Oculus Home and Revive is required |
Minimum computer requirements
| Requirements | Minimum | Recommended |
| --- | --- | --- |
| Processor | Intel™ Core™ i5-4590 / AMD FX™ 8350 | Intel Core i7-4770 / AMD Ryzen 5 Raven Ridge |
| Video Adapter | Ge Force GTX 970/AMD Radeon R9 290 | GeForce™ GTX 1060 / AMD Radeon™ RX 480 |
| RAM | 4 GB DD3 | 8 GB DD3 |
| Video connector | 1x HDMI 1.4 / DisplayPort 1.2 | 1x HDMI 1.4 / DisplayPort 1.2 |
| USB | 1x USB 2.0 | 1x USB 3.0 |
| DirectX | Version 11 | Version 12 |
| OC | Windows™ 7 SP1 / Windows 8.1 | Windows™ 10 |
Packing and arrangement of HTC Vive
The device is packed in a large box of black color with blue stripes. The basic equipment kit includes the following items:
Vive Headset — it is VR-glasses which at the same time are hub for all HTC Vive devices. On the top of the body is the main cord consisting of three wires: HDMI, USB 3.0 power cable. A wire with a standard 3.5-inch headphone jack is also available in the glasses.
Vive Controllers — two controllers for device control.
Vive Base Stations (Lighthouse tracking system) — two base stations that are responsible for movements reading. They work autonomously and do not need to be connected to the computer.
Basic instructions for all devices installation.
Adapter for connecting cables from Vive Headset. It has three connectors for the input from the glasses and the output of wires to the PC.
Power adapters for controllers, base stations and an adapter with mini-USB outputs and cables for them.
Fasteners for base stations and instructions for their installation.
Earplug headphones from HTC.
Long cable for base stations connection (in case of absence of optical synchronization).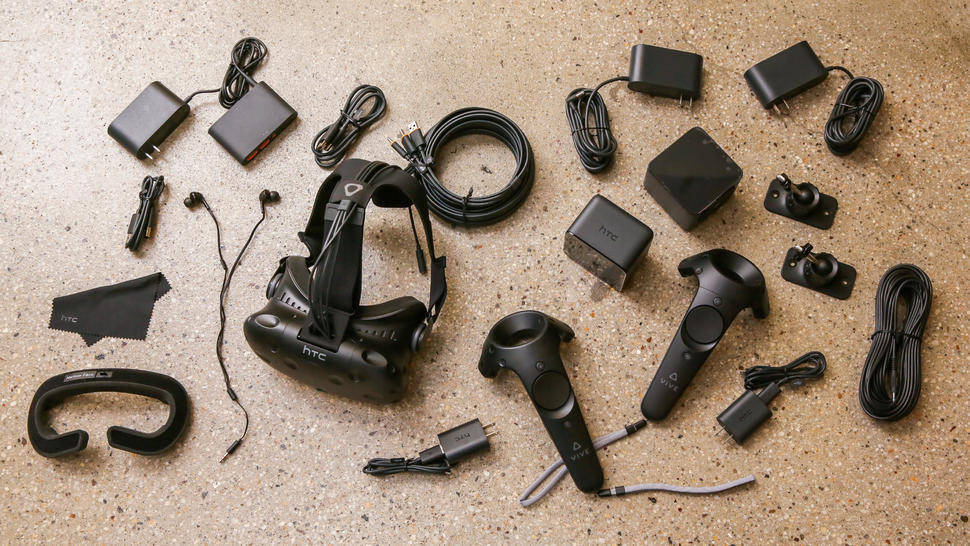 Accessories and additional devices of HTC Vive
TPCast — a unit of wireless connection with a computer plus a built-in battery for 6000 mAh. It connects directly to the glasses and is fixed over the head. The device operates at a frequency of 60 Hz, which allows to render images without delay and the quality is similar to the wired connection. Taken into account that the use of cables in dynamic games creates considerable discomfort and stiffness in movements, the transition to a wireless connection allows you not to think about finding a wire and to move freely on foot. The cost is 299

USD

.
Vive Deluxe Audio Strap — an improved plastic fastening for glasses with built-in headphones. It contributes to the convenience of the device usage, although there is a 3.5 jack, many people prefer to use standard earplugs. The cost is 99

USD

.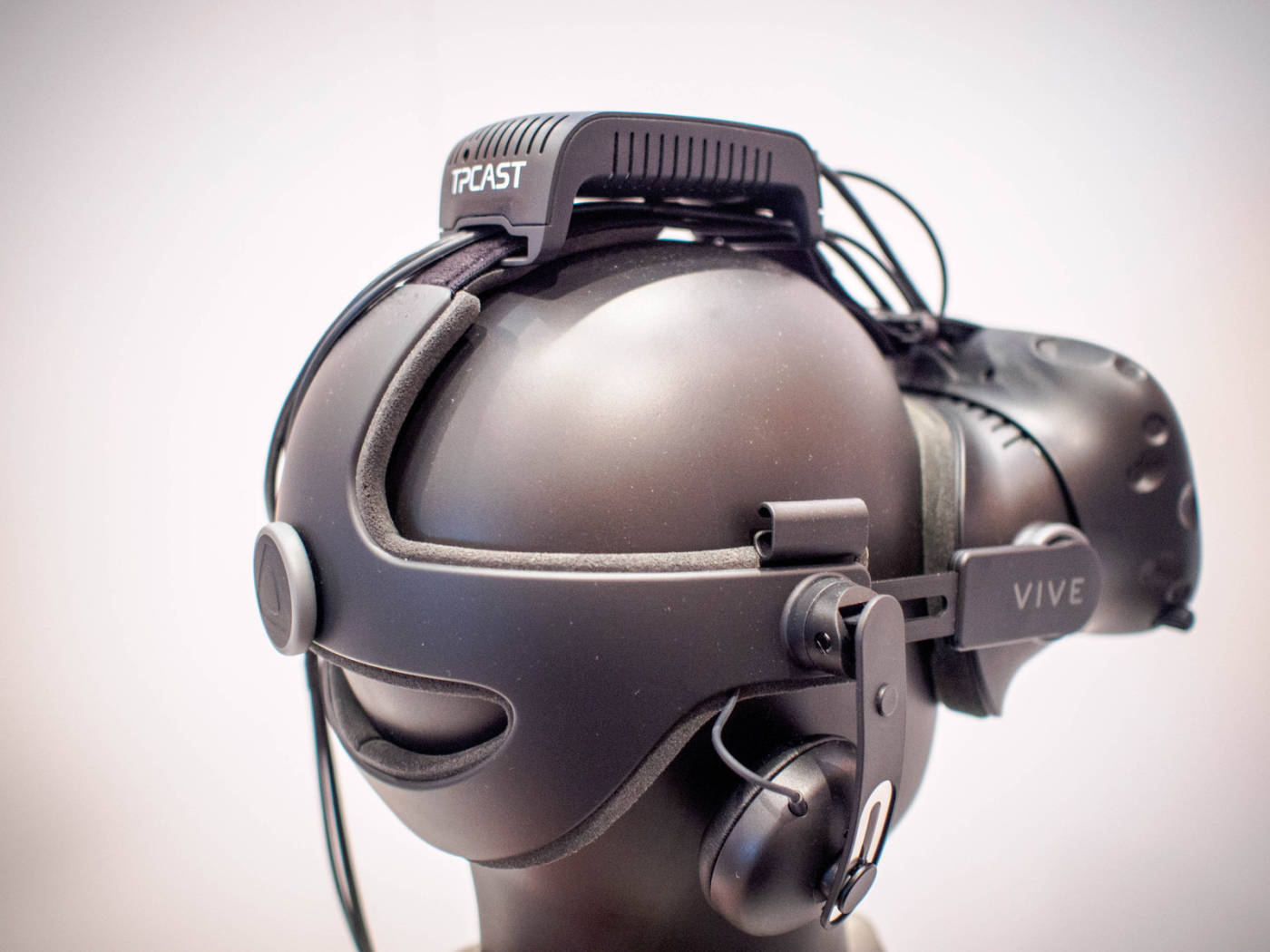 Vive Tracker — a device that allows you to put a real-world object into virtual reality. It is enough to fix it on the object needed. It can be anything: from a baseball bat to a toy gun. The cost is 99

USD

.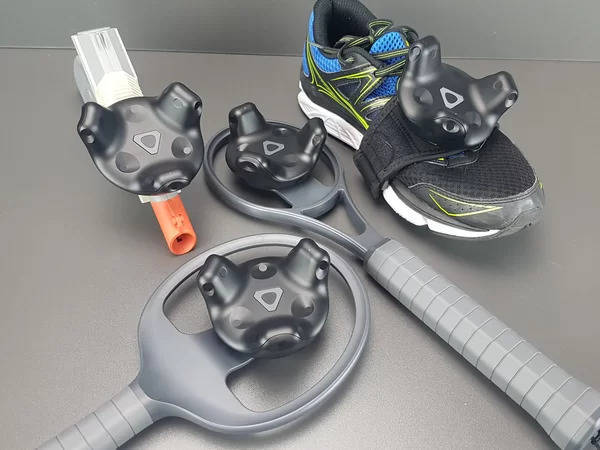 Setup and settings of HTC Vive
| Installation time | 30 minutes — 3 hours |
| --- | --- |
| Min. area | 2 х 1,5 meters |
| Max. gaming area | 3 х 4 meters (5 х 5 meters, according to the tests) |
| Max. distance between basic stations | 5 meters (7, according to the tests) |
| Positioning | Laser |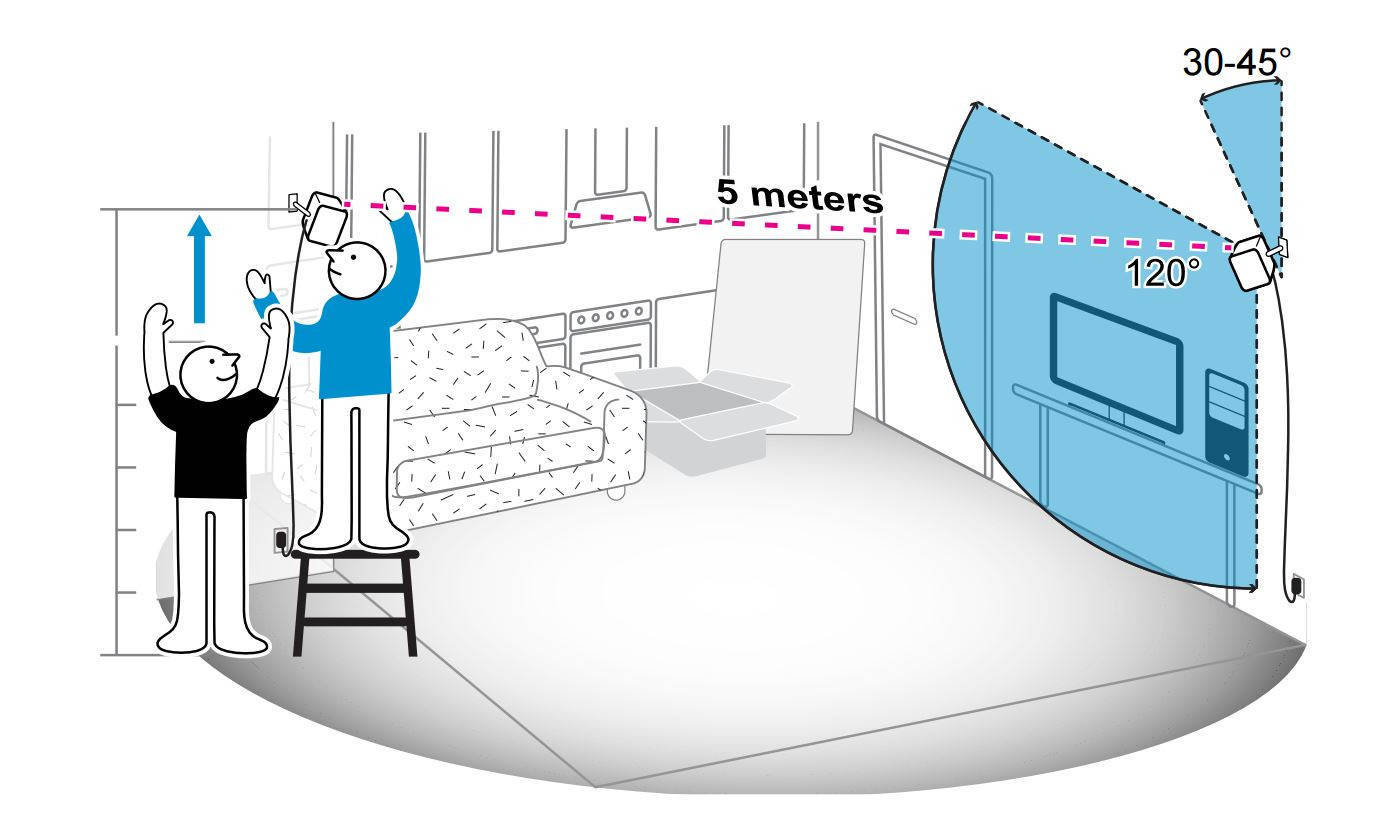 The device installation assistance program is provided with clear illustrations and it describes this process step by step.
For optimal operation of the base stations it is necessary to mount them in opposite corners of the room at a height above the head level by about half a meter.
During installation you will need to draw a perimeter of arbitrary shape with controllers to create a gaming space.
Inside this perimeter, the installation program will automatically create a square of maximum sizes, which will become a game polygon.
Incorrectly configured equipment can cause not only dissonance, but even a feeling of nausea.
When installing base stations, it should be taken into account that mirrors in the room can reflect the infrared rays of the base stations and create location errors of users.
Errors and bugs of HTC Vive
(1101—1112) USB error — an error with USB connection. It is one of the most common errors for this device. It is necessary to disconnect all HTC Vive devices from the computer, then go to Steam VR > Settings > Reset > Remove all SteamVR USB Devices. Close SteamVR, connect the glasses to another USB port and restart SteamVR.
(Error 108) Headset not found — a problem with headphones finding. It can be solved by several means: by restarting of headphones, PC or USB port change (from 3.0 to 2.0). If this does not help, then you need to turn off Steam VR, disconnect the voltage and USB cables from the cable adapter (outputs on the PC) and wait a few seconds. Then reconnect them and wait until the driver installation is complete. After that you will need to restart SteamVR — in most cases this is enough.
If the light indicator is blue, there is a problem in connection to the PC. You need to pair with the PC. To do this, follow the following path: SteamVR > Settings > Devices > Pair Controller.
If the light indicator is red, then the problem is in the controller itself. It is necessary to hold tightly the trigger, the menu button and the side buttons and connect the device in this state to the PC via microUSB, wait five seconds and release the buttons. Then you can disconnect the controller — the reboot is complete.
Check the device updates: SteamVR > Devices > Update Firmware
The switch of one station must be set to mode "b", and the other one — to mode "c"
The distance between stations should not exceed 5 meters, there should be no objects between them
If all the requirements for stations setting are met, but they do not recognize each other, then you can connect them with the cable that is included in the package. To do this, turn the switch at one station to mode "a", and at the other one — to mode "b".
Recommendations for HTC Vive users
Enable room mode when playing in a confined space. This will help not to lose contact with the real world without taking off glasses. SteamVR > Settings > Camera > activate the Allow Camera for Room View item.
It is not advisable to take off glasses when using HTC Vive — the image quality will decrease, and in some games it will not be possible to see important details. This is especially true for users with astigmatism and poor vision.
It's more convenient to use the supplied earplugs instead of large headphones — they not only press the head less, but also prevent mess and tangle of wires on the head.
With a lack of gaming space, you can turn on Standing Only mode and play most of the games without moving around the room. SteamVR > Run Room Setup > Standing Only. You can also play some games while sitting.
HTC Vive feedback
The first use may cause dizziness and nausea, but as a rule it can happen only if you play action games or games with bright graphics. On the controllers, some directions on the trackpad stop working, which can make its usage in some games more complicated.
Users note that you can easily 'get lost' in the device for 2–3 hours. There are no serious health problems, but after a long game it will take some time to return to the real world. This is mainly due to the high quality of the virtual reality, good detailing of objects and really good movement monitoring.
The game in the glasses does not cause any particular inconvenience and the narrowing of the viewing angle is practically not noticeable. As for the rest things, everything is similar to the real world — the worse the user's vision is, the worse he/she will see objects. If an object in the virtual world is located in the distance, then a gamer with myopia will experience difficulties with its recognition.
It is also worth mentioning well-balanced sound and its high quality. The quality is noticeable both in the Deluxe Strap headphones and in good earplugs.
If you want to use HTC Vive in full, then to buy only glasses will not be enough. In addition, you will have to spend several hundred dollars on buying a powerful video card and a processor, to allocate a separate rather large area just for gaming space. Of course, you do not have to have free 15 square meters, but in this case the main advantage of HTC's glasses is lost — games with full immersion in virtual reality.
HTC Vive - Alternatives
Showing 1-10 of 10 items.
Price
Product
Photo
USD
Title
px.
Angle
Hz.
MP
Gr.
USD
Title
399
Oculus Rift CV1
1200×1080
110°
90
470
799
HTC Vive Pro
1440×1600
110°
90
2 pc.
555

~ 800

Pimax 8K
3840×2160
200°
90
~450
189
Sony PlayStation VR
960×1080
100°
90-120
1 pc.
610
487
Lenovo Explorer
1440×1440
110°
90
2 pc.
380
583
ASUS Headset
1440×1440
95°
90
2 pc.
400
534
Oculus Rift DK2
960×1080
100°
75
440
449
DELL Visor
1440×1440
110°
90
2 pc.
590
454
Pimax 4K
3840×2160
110°
60
620
199
HP VR Headset
2880×1440
95°
60
2 pc.
834
Brand
HTC
Oculus
HTC
Pimax
Model
Vive
Rift CV1
Vive Pro
8K
Min. price
USD

499

USD

399

USD

799

USD

800

Estimated price
Release
2016/04/05
2016/04/28
2018/04/05
2018
Usage
For PC
Design
Body
Total weight
470 gram
470 gram
555 gram
~450 gram
Body weight
512 gram
450 gram
Display
Type
Availability
Type
PenTile OLED
OLED
AMOLED
LCD CLPL
Size
Size
3.6 inches
3.54 inches
3.5 inches
Aspect ratio
16:9
Field of view horizontal
110 °
110 °
110 °
200 °
Field of view vertical
120 °
Resolution
Resolution
1200×1080 px.
1200×1080 px.
1440×1600 px.
3840×2160 px.
Features
Latency
22 ms.
Refresh rate
90 Hz.
90 Hz.
90 Hz.
90 Hz.
Adjusting
IPD
Focal length
Lens spacing
58-72 mm.
System
Operating system
Minimum system requirements
GPU: Nvidia GeForce GTX 970 или AMD Radeon R9 290; CPU: Intel Core i5-4590 или AMD FX 8350; Оперативная память: 4 ГБ или больше; Видеовыход: HDMI 1.4 или DisplayPort 1.2
8 Гб оперативной памяти; ОС Windows 7 SP1; 3 порта USB 3.0; порт USB 2.0; разъем HDMI 1.3.
GPU: Nvidia GeForce GTX 1060 или AMD Radeon RX 480; CPU: Intel Core i5-4590 или AMD FX 8350; Оперативная память: 4 ГБ или больше; Видеовыход: DisplayPort 1.2, USB 3.0 порт или более скоростной, Windows 8.1 или выше
Synchronization
Windows
Support
SteamVR
Oculus Home
Windows Mixed Reality
Viveport
PiHome
Camera
Front camera
Number
1 pc.
2 pc.
Multimedia
Sound
Headphone input 3.5mm
Microphone
Features
Conrol
3DoF Turning head
Tracking
3DoF Rotation tracking
6DoF Positional tracking
Tracking area
5x5 meters
2.5х2.5 meters
10x10 meters
Applications
Integration
Games
3500
2900
3500
3500
Interfaces
Wi-Fi
Wi-Fi
Video
HDMI
1.4
DisplayPort
1.4
USB
USB
USB 3.0
USB 2.0
USB type-c
Charger connector
Display port support
HDMI support
Contents
Contents
Manuals
USB cable
2
HDMI cable
2
HDMI repeater
1
Headphones
1
Motion controller
SteamVR Tracking
Gamepad
Lighthouse
2
2
Sensors
Accelerometer
Gyrosсope
Magnetometer
External position sensor in space
Proximity sensor
Indicator
Immersion

9

8

Interaction

9

9

Comfort

6

8

Ecosystem

7

7

Setup

6

6