Oculus Rift CV1 - Specification
General
Rating

Immersion

8.0

Interaction

9.0

Comfort

8.0

Ecosystem

7.0

Setup

6.0

Usage

For PC

For Smartphones

For quadcopter

Operating system

Minimum system requirements

Dates

Release

2016/04/28

Design
Body

470

gram

450

gram

Display
Type

Availability

AR - See-through

OLED

Size

3.54

inches

Smartphone screen

N/A

Field of view horizontal

110

°

Resolution

1200×1080

px.

Features

90

Hz.

Adjusting

Present

Lens spacing

Camera
Front camera

N/A

Features

Video recording

Video recording options

System
Synchronization

Android

iOS

Blackberry

Windows

PlayStation

RAM
GPU - Video card

N/A

Support

SteamVR

Oculus Home

Windows Mixed Reality

Daydream

Gear VR

Viveport

PiHome

Integration

Games

2900

Interfaces
Video

HDMI

HDMI 2.0

DisplayPort

Wi-Fi

+$

Bluetooth
USB

USB

USB 3.0

USB 2.0

USB type-c

Multimedia
Sound

Headphone input 3.5mm

Microphone

Power
Battery

N/A

Replaceable

Battery life

N/A

Features
Conrol

3DoF Turning head

Tracking

3DoF Rotation tracking

6DoF Positional tracking

Tracking area

Contents
Contents

Manuals

USB cable

HDMI cable

DisplayPort cable

HDMI repeater

Headphones

Touch control panel

Motion controller

SteamVR Tracking

Gamepad

Lighthouse

2
Oculus Rift
is one of the most popular VR devices for PCs. The glasses are designed to completely immerse its user in virtual reality and they allow you to track the movement of controllers and the position of the headset in space. Rift has an impressive range of games and applications. In 2018, Oculus took the second place among the VR glasses manufacturers with a share of 19.4% on the world market due to a good correlation of price, quality and usability.
The Oculus Rift release was preceded by a four-year development and fundraising stage at Kikstarter. The success led to the fact that in March 2014 Facebook bought the Oculus VR company for 2 billion dollars. During the development period the company produced several prototypes:
DK1 (August 2012) — it was distinguished by its low resolution (640x800 for each eye), a small viewing radius of 90 degrees and headset tracking with the help of an accelerometer, magnetometer and a gyroscope. The device was presented by Palmer Luckey at the E3 exhibition;
HD version of DK1 with improved resolution was released in June 2013;
Crystal Cove (January 2014) — an introduction of the OLED display and a modern (for 2018) motion tracking system which allowed to get rid of motion sickness and dizziness among users;
DK2 (July 2014) — it got the OLED display and a resolution of 960x1080 per eye;
Crescent Bay (September 2014) — a version with a built-in audio module and tracking capability with a radius of 360 degrees.
The mass-market version was distinguished by the presence of separate displays for each eye, position tracking, integrated headphones and high-quality design. The first mass-market version was released in March 2016.
The first versions of the device were sold with a standard joystick from Xbox One which was not integrated into virtual reality. There were two reasons: insufficient number of tracking games for Rift (many games required standard control) and an underdeveloped tracking system.
December 2016: Oculus Touch tracked controllers start to come out as a separate accessory.
May 2017: the second front camera is included as standard one, which makes it possible to play with full immersion and it makes Rift a full competitor of HTC Vive.
August 2017: Oculus Touch becomes a part of standard configuration and packaging arrangement, and the Xbox One joystick is excluded from it.
Pros of Oculus Rift
Comfortable and tight fitting of the glasses
on the head: it is good for a head of any size;
Built-in headphones
of good quality;
Convenient and user-friendly
controllers
;
An increasing number of games
for Rift and the ability to run some games for HTC Vive;
It is
less PC demanding
compared with HTC devices;
Possibility of
wireless connection
using TPCast.
Cons of Oculus Rift
You cannot play room-scale games
without connecting three cameras
;
Small gaming space
with two cameras (1.5 x 1.5 m);
The foam interface
is not durable and hard-wearing;
The headset
wires
hinder while playing moving games;
Wearing glasses
is hot for the face even if there is an air conditioner in the room;
The need for a
complex setup
of cameras and gaming space.
The main competitors of Oculus Rift
HTC Vive is a more expensive and demanding model, with less ergonomic controllers, but with more number of games, more gaming space and a set of accessories that can be merged into virtual reality.
HTC Vive Pro is a more advanced, comfortable however more expensive model. The resolution of the display is higher by 70%, and the gaming space is almost three times more than one in Oculus Rift.
Windows Mixed Reality (WMR) are cheaper VR devices from Samsung, Lenovo, HP with higher image resolution. The devices have less tracking accuracy in space and a limited number of applications (about 600 on Steam). But when it is used together with a portable laptop behind your back, it's possible to play in unlimited space. There are no base stations or sensors in the WMR devices, which greatly simplifies the setting up process.
Oculus Rift design and ergonomics
The glasses are made of black plastic and look quite interesting from the front part: a strict and minimalist flat matte surface looks both futuristic and stylish.
The device is fixed on the head with a flexible plastic frame and rubber ties overhead. The size is easily adjustable with a pullout handle and elastic straps which fit the head tightly from above and from behind. The weight of the device is 470 g, which is less than that of the PS VR or Vive competitors.
Regulators on the lower edge of the glasses allow you to change the location of the lenses in accordance with the interpupillary distance of a user (IPD). There is no exact digital ruler for the arrangement of lenses, so it's necessary to set the exact distance using a usual ruler. It is possible to use Oculus Rift when you wear glasses, although an hour long use can cause inconvenience. The point is not only in size limitations, but also that the side mounts of the device unpleasantly press the glasses temples. What's more, there is a danger of lenses damage, and it can be very hot in the glasses itself even in an air-conditioned room.
The headphones are installed on the mount with a hinge, so they can be fixed more tightly or, on the contrary, you can loosen them if a user, for example, is afraid of immersion into the virtual world too much and wants to know what is happening around him/her in the real world (there are no gaps like in the PS VR in the glasses, nothing around will be visible). Users mention a high quality and good sound balance in the built-in headphones despite the fact that they may look somewhat out of date in their design. Headphones can be easily removed with a screwdriver. They are connected to the frame of the VR glasses through straight metal contacts without any wires.
Display and lenses of Oculus Rift
Oculus Rift is equipped with the OLED display with a resolution of 1200x1080 for each eye — this is identical to the figure of its main competitors, but it lags behind flagship models like HTC Vive Pro or Windows Mixed Reality devices. The viewing angle is standard 110 degrees, but if you play wearing your own glasses it can become a bit narrower.
The image quality is also almost identical to HTC Vive: in the subtle details blur is noticeable, if you are very attentive you can see pixels and in general the virtual reality is well distinguishable from the real world. At the same time, tracking technology makes a good impression and even a complete skeptic can be easily immersed in VR.
You can improve the graphics with Oculus Debug Tool. Firstly, you need to open Oculus Home, then run Debug Tool (it's in the Support folder of the Oculus root folder) and change the Pixels Per Display Pixel Override parameter to figures from 1.1 to 2.0 — this will increase the number of pixels from 10% to 100% . You do not need to close Debug Tool during the game, and the parameter can be changed depending on a game and the PC capabilities.
Controllers of Oculus Touch
Battery type
Replaceable AA batteries
Battery life
20-30 hours
Connection type
Wireless
Updates
Not provided
Number of buttons
6
Weight
235 g
The price of an individual controller
69

USD
Oculus Touch controllers are easy to get used to thanks to the familiar arrangement of buttons that is the same as in game consoles. Here there is everything that gamers are used to: a joystick, hammers and usual buttons. Hands are protected from possible accidental blows by plastic arcs, and for additional security wrist straps are provided.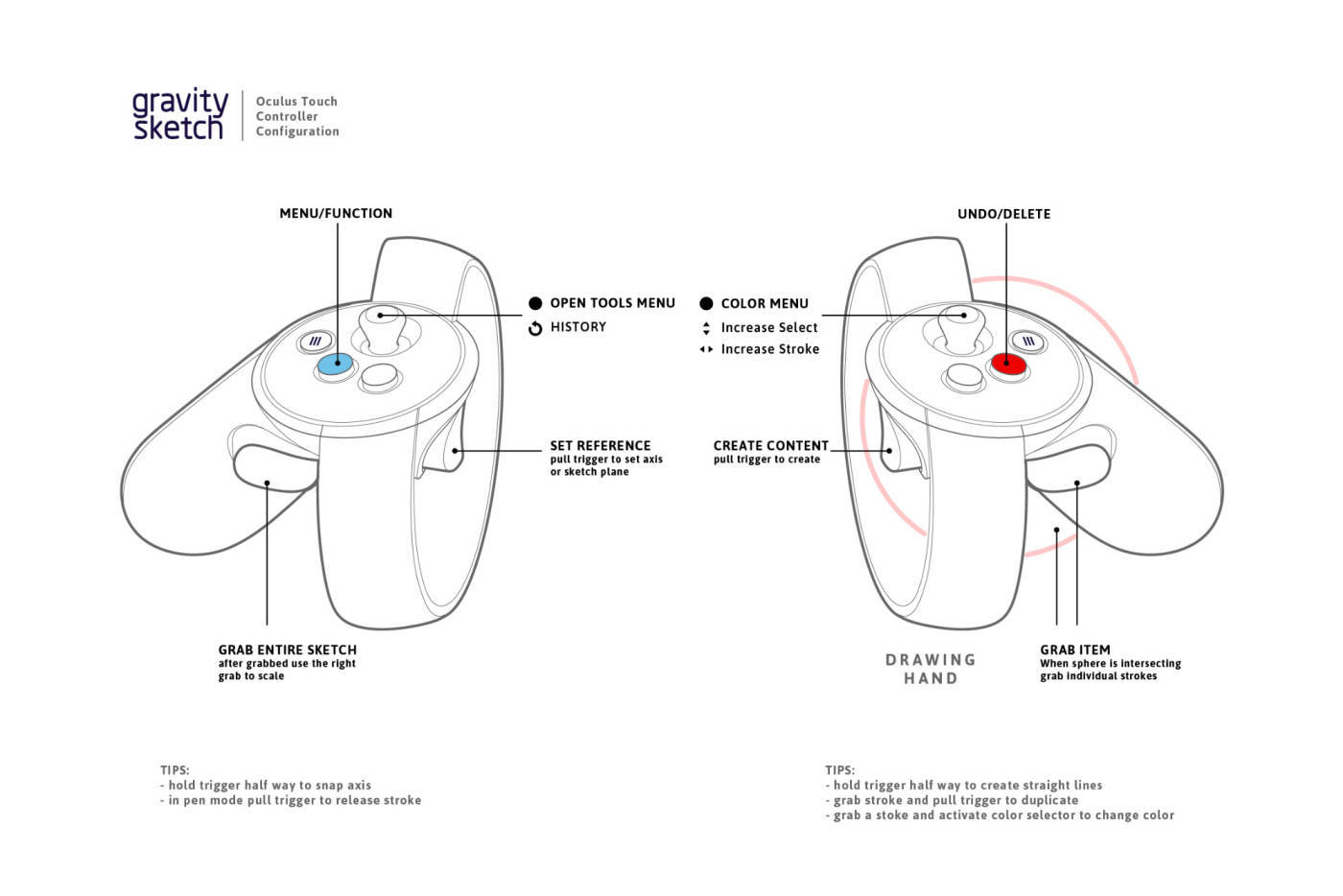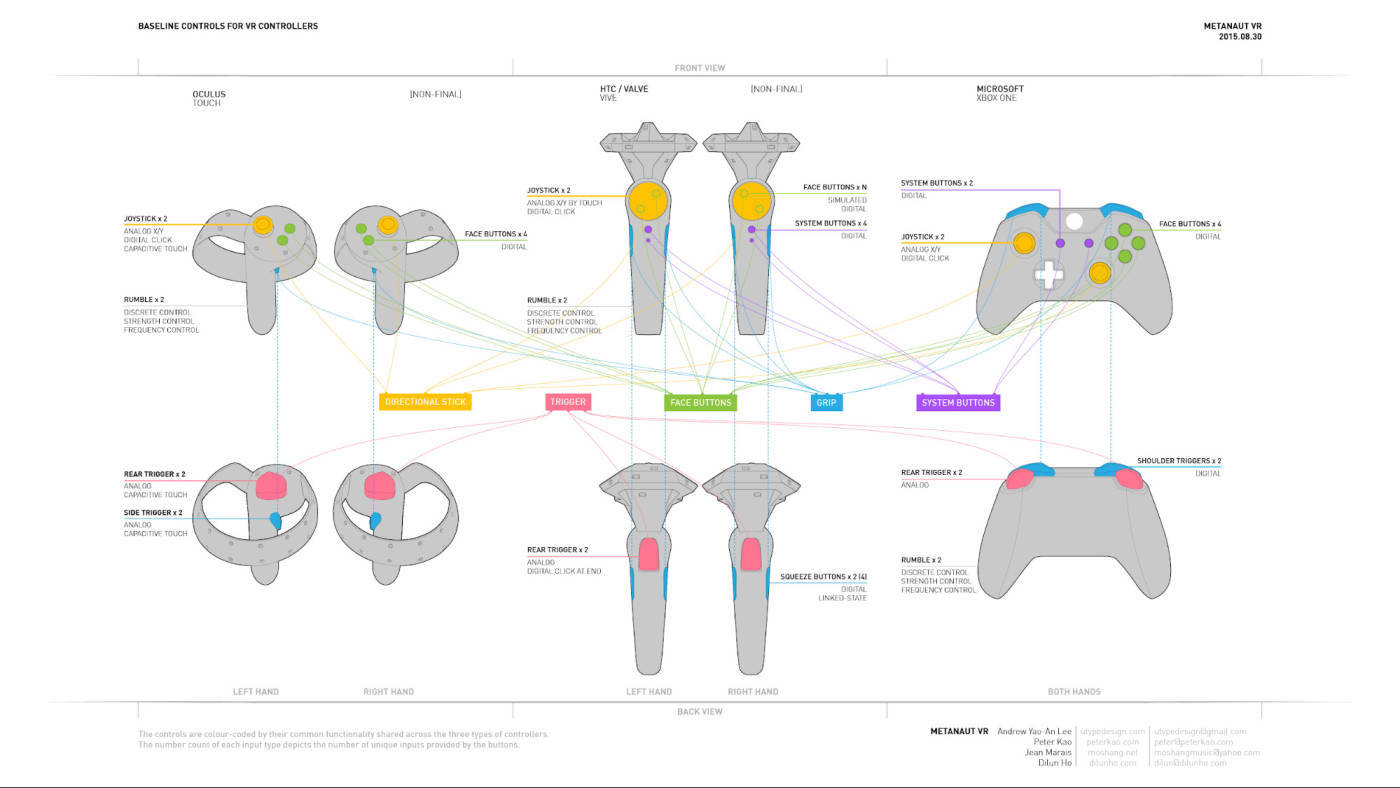 How does Oculus Rift work?
Oculus sensors detect the location of the headset and controllers by means of infrared identification of devices in space. Each of the devices sends signals picked up by sensors. That is why it is important that there are no mirrors and too bright windows in the room. Thus, the user's head and hands are merged into virtual space. This system is called Constellation Tracking System.
In addition to the tracking of user's movements there is an accelerometer, a magnetometer and a gyroscope in the headset. To make it much closer to the reality the position of the user's eyes is also tracked: in real life our eyes focus on objects that are farther or nearer, but they cannot see everything clearly and distinctly at the same time . In order not to make brain rack because of constant clarity, Rift uses the technology of eyes pupils monitoring.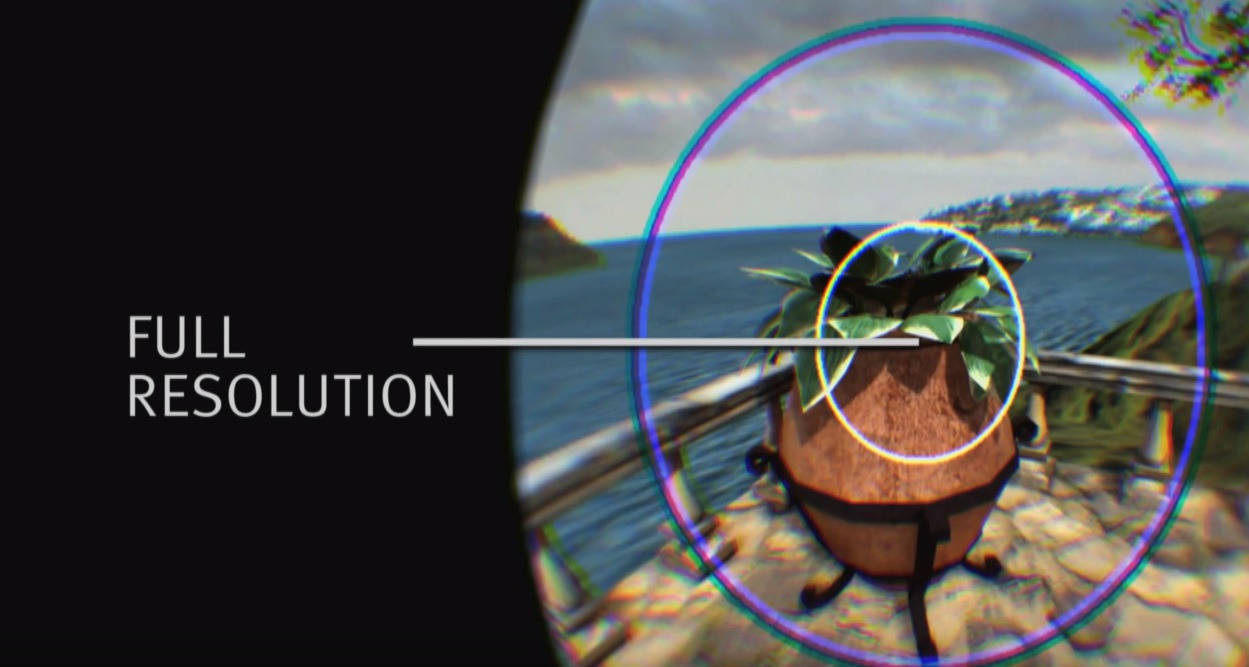 It is interesting that sensors can work as a usual web camera — this fact was discovered in mid-2017 and caused a wave of indignation in the VR community. It is mentioned nowhere in the instructions about such sensors' capabilities, and Windows connects them as a usual third-party USB device. De facto you connect 2-3 additional webcams, although it's no secret that many users cover front cameras on laptops because of a discomfort.
It is believed that this was done in order to hide the secret of the sensors functioning, and Facebook assures that the image from the camera is not transmitted and processed. However, there is a risk of hacking Rift sensors by intruders in order to obtain images.
Sensors and gaming space in Oculus Rift
Oculus Rift creates a gaming space with at least two sensors (in fact, they are usual cameras) which are located on both sides of the monitor creating a cone-shaped gaming space. The device has a system for monitoring the gaming space boundaries which is called Guardian. To create a space you need to draw its arbitrary boundaries with the help of controllers, and a cube will be formed automatically inside. It will be highlighted by thin lines during the game so that a gamer does not lose orientation in space.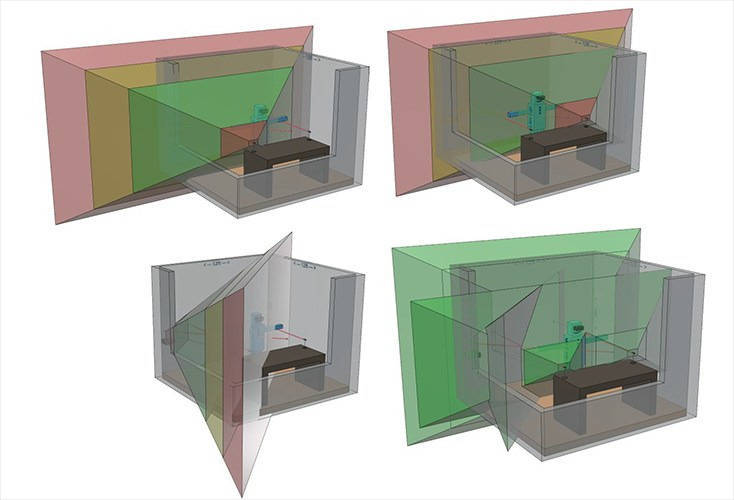 The size of the gaming space is small: 1.5 x 1.5 m if you play with two cameras located on both sides of the monitor. When you purchase an additional third camera, you can expand your gaming area to 2.5 x 2.5 m. Unlike HTC devices, in Rift you cannot integrate real-world objects into VR.
Software for Oculus Rift
Oculus Home is a standard shell for installing and running games and applications which is configured automatically when the device is connected to the PC. The application is very user-friendly and is similar to Steam.
Oculus App is an application for connecting glasses to the PC, installing, updating and managing and controlling the Oculus Rift equipment.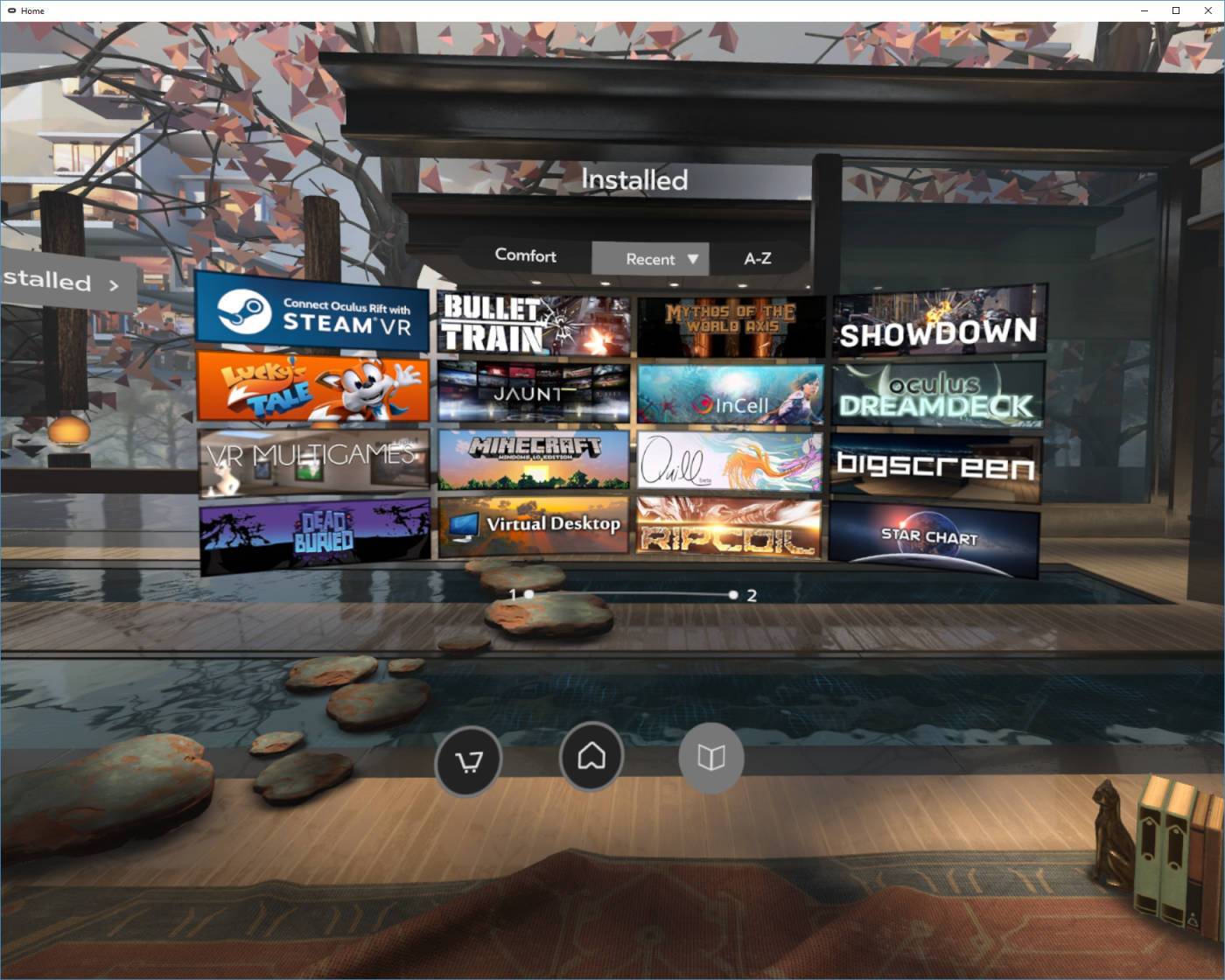 Where you can download games for Oculus Rift
| Service | Games | Free Games | Comments |
| --- | --- | --- | --- |
| Home | 1060 | 269 | Native application |
| SteamVR | 2201 | 107 | Launch of games for HTC Vive |
During the recent year Steam is actively working to become the main platform for VR games for different types of devices. You can start games from there to Oculus if you enable the parameters Public Test Channel and Include Unknown Sources in Oculus Home settings.
Minimum computer requirements for Oculus Rift
| Requirements | Minimum | Recommended |
| --- | --- | --- |
| Processor | Intel i3-6100 / AMD Ryzen 3 1200, FX4350 | Intel i5-4590 / AMD Ryzen 5 1500X |
| Video card | NVIDIA GTX 960 4GB / AMD Radeon R9 290 | NVIDIA GTX 1060 / AMD Radeon RX 480 |
| RAM | 4 GB DD3 | 8 GB DD3 |
| Video output | HDMI 1.3 | HDMI 1.3 |
| USB | 3 x USB 3.0, 1 x USB 2.0 | 1 x USB 3.0, 2 x USB 2.0 |
| DirectX | Version 11 | Version 12 |
| OS | Windows 7 | Windows 8.1 Windows 10 |
In order to find out if your PC meets the minimum Oculus Rift requirements, you can download the
special application
on the official website.
Oculus Rift packaging and arrangement
Oculus Rift is sold in a big black box, and each component is fixed inside with Velcro and is located on a soft lining. There are not many base components, so the box can easily be used to transport the device.
Oculus Rift Headset is a virtual reality headset with built-in headphones and a cord for connecting to a computer. It combines two wires: HDMI and USB 3.0.
Two sensors for installation opposite a user, which are connected via USB, but do not require separate power.
Oculus Touch Controllers — two controllers and two batteries for them.
A booklet with information about the initial installation of the device.
A screwdriver for removing built-in headphones.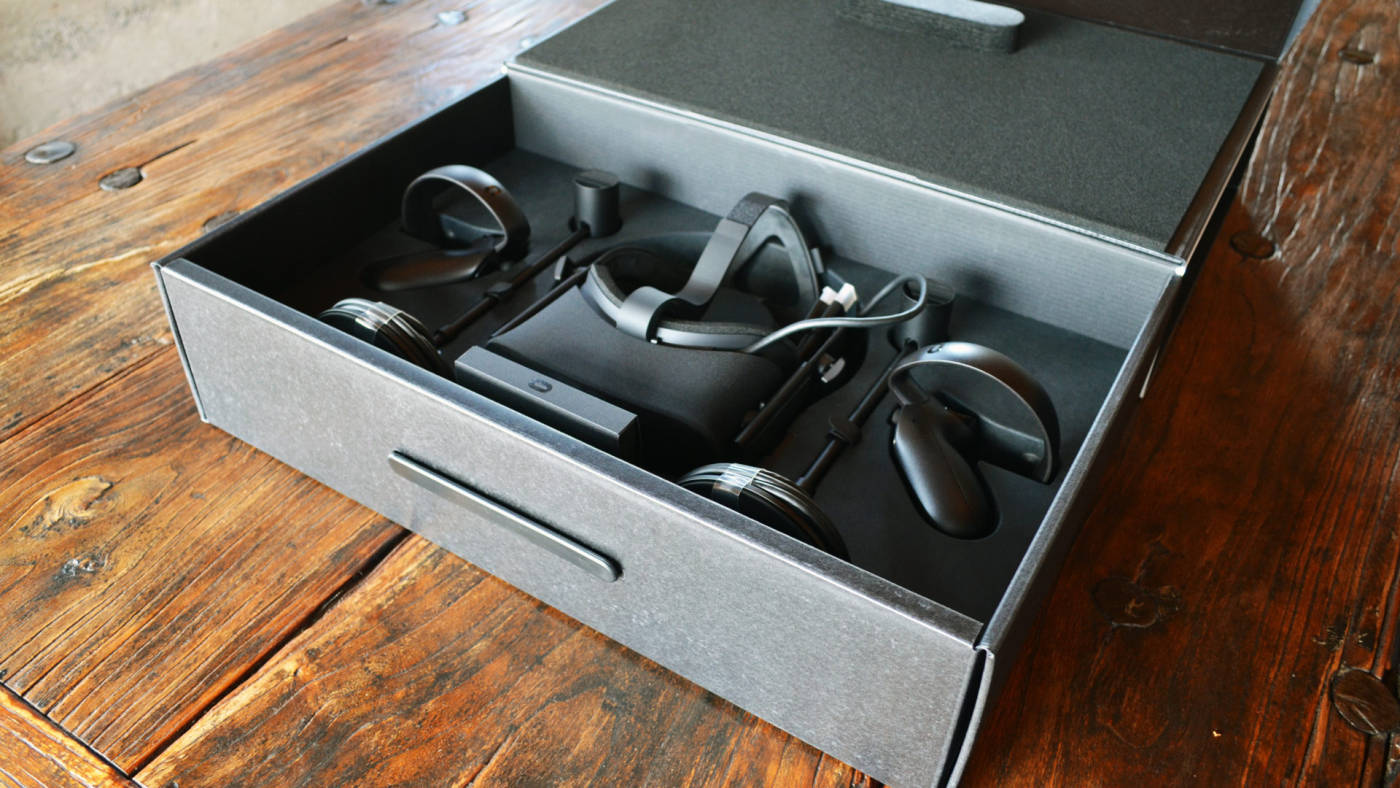 Despite the announced total cost of 400
USD
, the hidden costs of the device purchasing can reach 900
USD
and more, and the total cost of the workstation will be above1,400
USD
. To estimate the cost of the entire system properly, you should pay attention to the following points:
The availability of a suitable PC and OS
The availability of all connectors and wires
The desire to create a full-fledged gaming space with the ability to play with the visibility of 360 degrees.
For a new gaming computer you will have to pay 800
USD
. If only a video card is missing, you need to be ready for the cost of 220
USD
, and upgrading to Windows 10 from Windows 7 will cost about 140
USD
. Oculus warned users that Windows 7 and 8.1 supporting might be stopped soon. Among the costs of cables and connectors gamers often mention the following points:
USB 3.0 extension cable — it is absolutely necessary to connect the third sensor (6

USD

)
USB 3.0 controllers — additional costs to solve the problem with insufficient number of ports (from 15

USD

)
USB splitters — not all PCs have enough outputs and there may be not enough space for all the devices (10

USD

)
Extension cable for HDMI — for comfortable use of the headset (12

USD

)
Mount for the sensor — it is needed to install the third camera (6

USD

)
Who wants to enjoy the immersion in virtual reality to the full will have to purchase a third sensor in addition that costs 59
USD
.
Accessories and additional devices for Oculus Rift
In-ear headphones for Oculus Rift
— they are sold on the company's official website especially for fans of small headphones. The price is 49
USD
.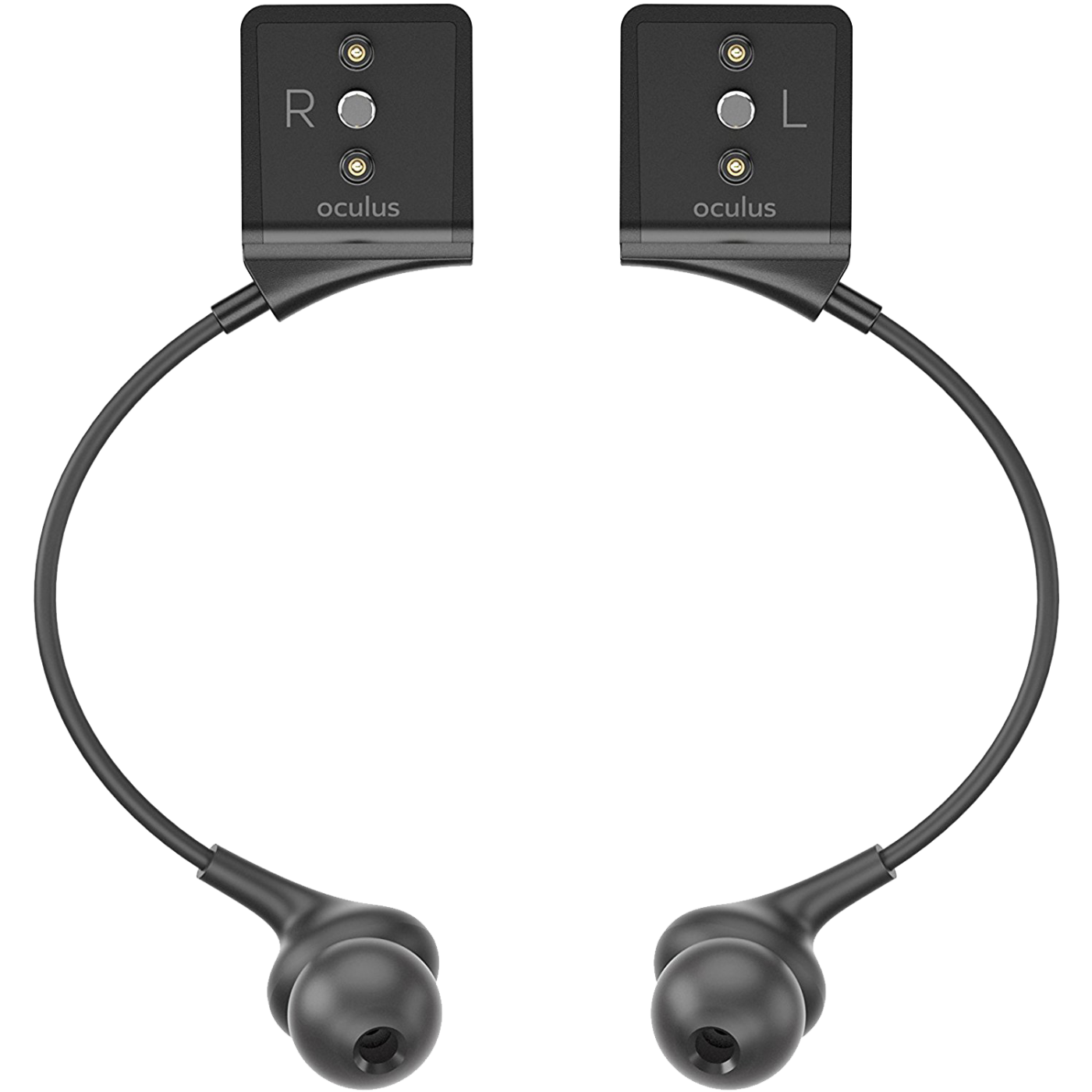 Ceiling mount for the main cable
— it allows you not to think about the cable under your feet during the game and protects it from sudden movements. It will cost 23
USD
.
TPCast
— it is a small adapter for wireless connection of glasses to the PC. It allows you to move freely and not to think about the cable.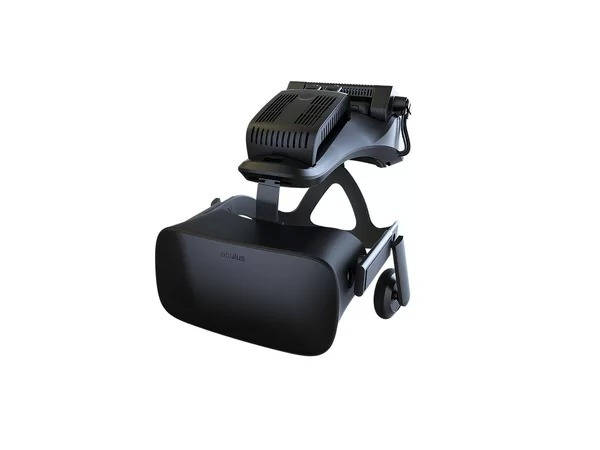 Leap Motion Controller
is a small device which is connected to the PC and allows you to see your hands in VR. The device captures the movement of each finger independently of the controllers. The downside is that the box is placed on the table in front of the computer and catches hands only above it, so its use in games is limited. The cost is 99
USD
.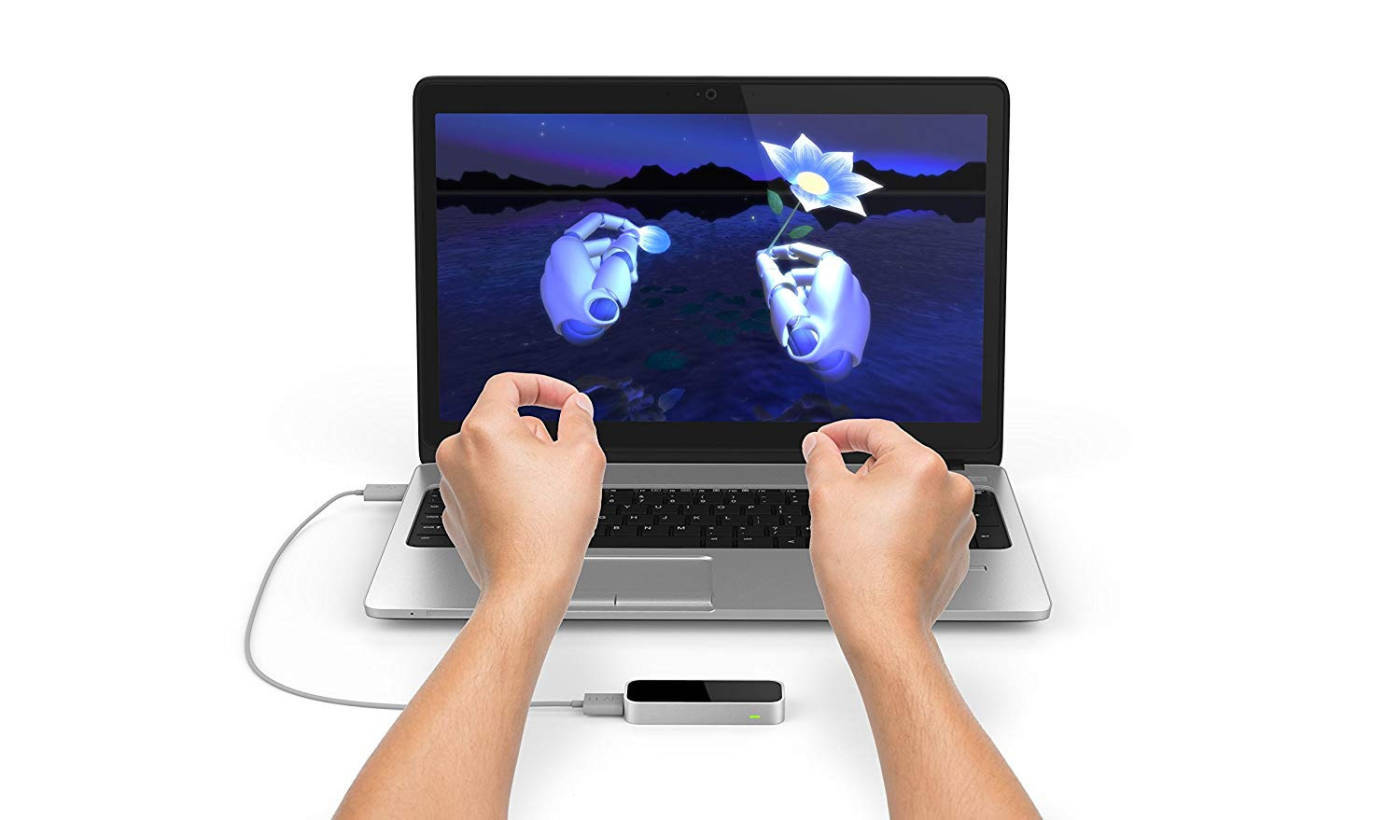 VR Cover
is a removable face cover that is more durable and reliable than the original nozzles. They are easy to clean with hygienic napkins, and the face sweats less. The cost is 29
USD
.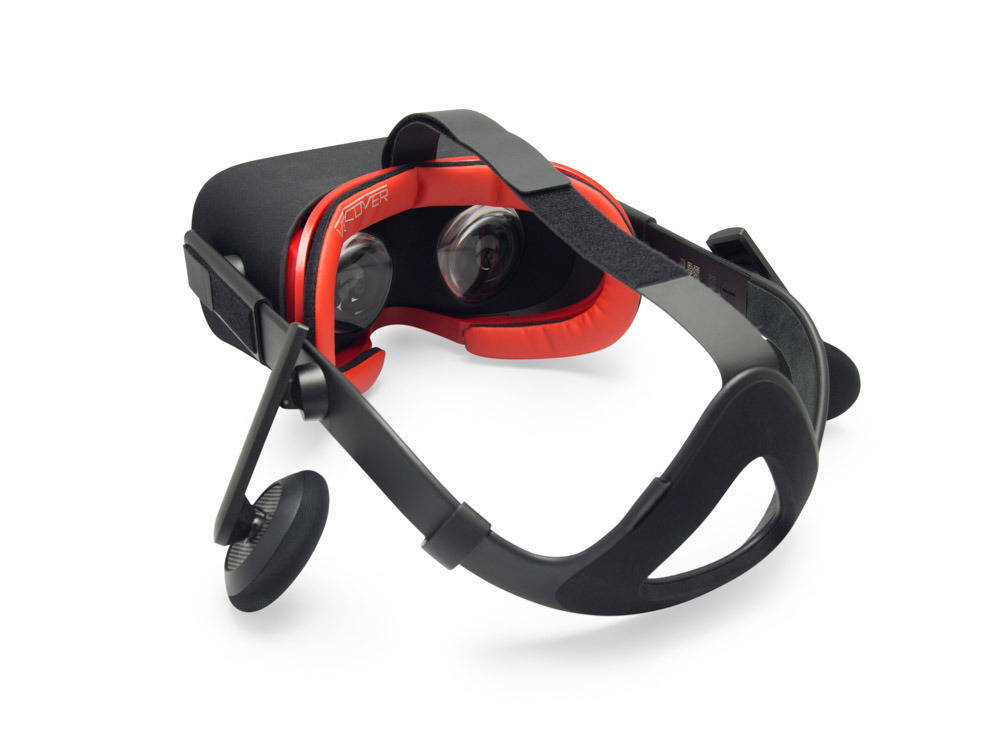 Subpac M2X
— literally, these are speakers that are put on the body and allow you to feel the events around you tactilely due to a built-in subwoofer. The device enhances the immersion in the VR and allows you to trigger tactile sensations. Such a gadget costs about 350
USD
.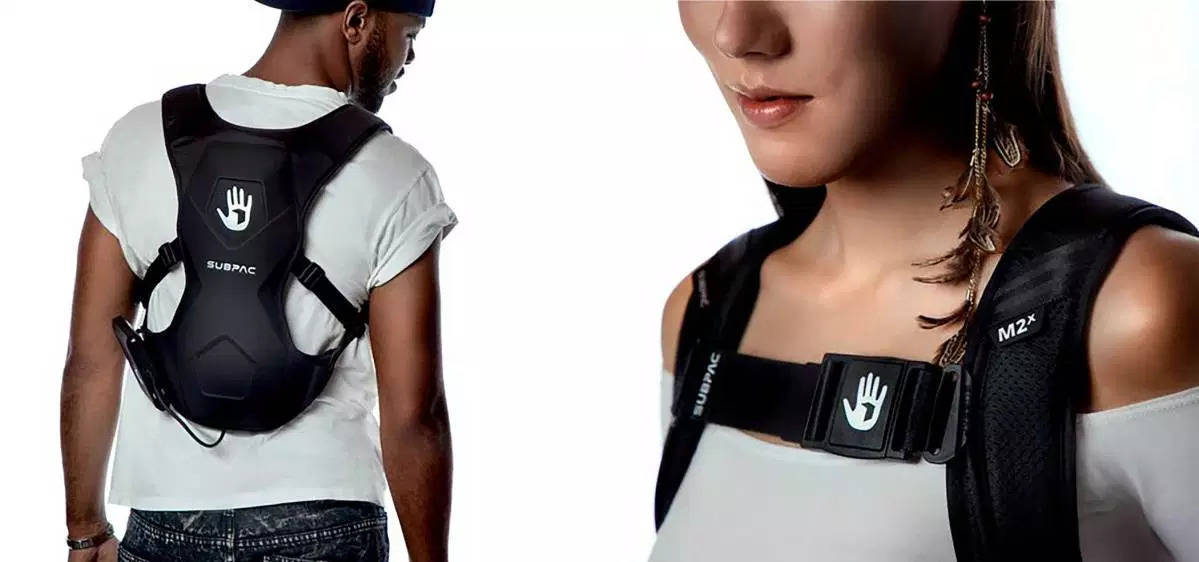 What's more, all the most important replacement parts for the standard Occulus Rift components are available on the official website in case of their damage and obsolescence. This cannot but rejoice, for example, PlayStation VR does not have so many replaceable parts.
Cable for Oculus headset (49

USD

)
Lining for the face (29

USD

)
Standard headphones (39

USD

)
Controllers individually (69

USD

)
Oculus Rift installation and setting up
| Installation time | 15 min. — 1,5 hour |
| --- | --- |
| Min. area | 1x1 meter |
| Max. gaming area | 2,5х2,5 meters |
| Positioning | Visual |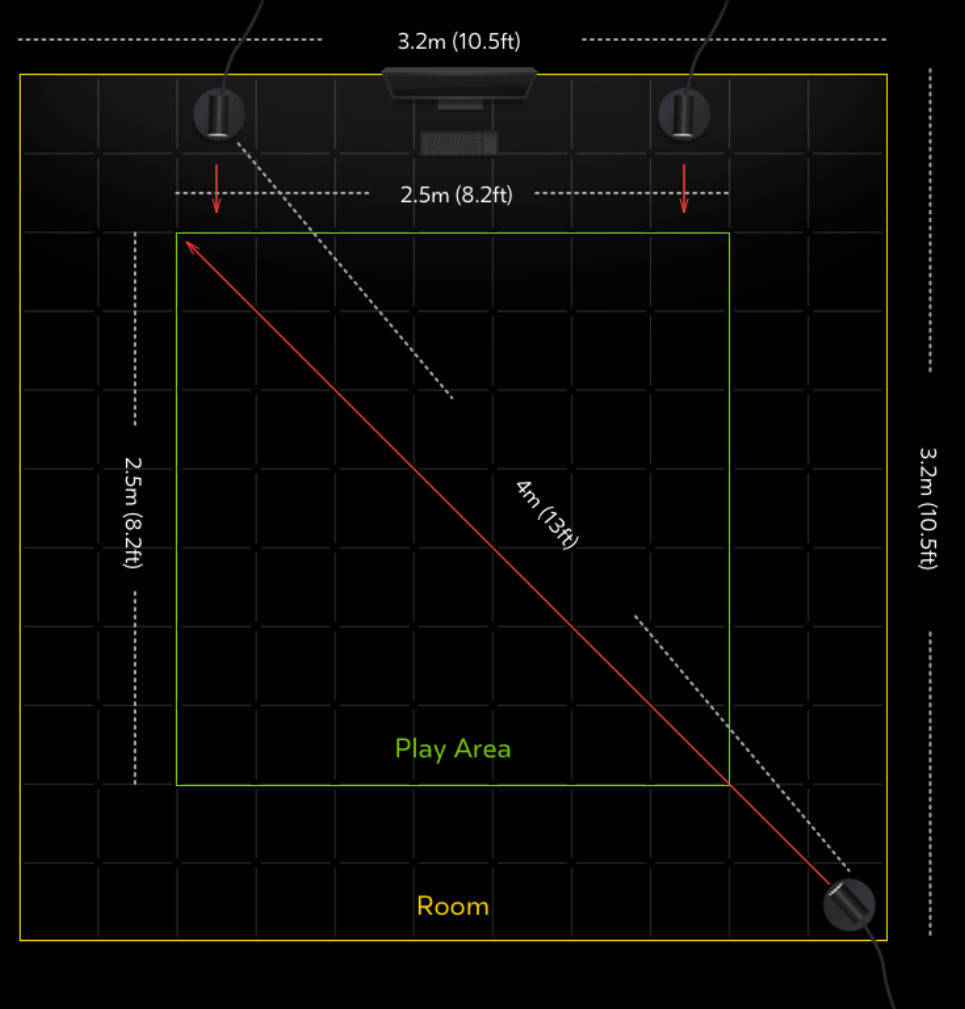 Equipment installation for Oculus Rift is more difficult than for PS VR, but it's easier than for HTC Vive. First of all, you will need to download the Oculus App from the
website
, create an account and follow the instructions on the screen. The process is relatively simple, and the installation experience can be studied in detail by
video reviews
.
Two camera-sensors are placed near the computer. The third one must be placed in the back top corner of the proposed gaming space. To do this, you need to use a ceiling mount or a high stand. Cameras create a cone-shaped virtual zone in front of you, so when they are placed in front of a gamer, a blind zone for the VR remains at the back part from a user. Some users use even four cameras for more accurate tracking. There is no need to buy more sensors, this can lead to malfunctions in Oculus software regardless of the PC level.
Errors, bugs and recommendations for using Oculus Rift
The most common problem occurs when you connect glasses and sensors
via USB
:
The device is not recognized by the PC
errors in the Oculus Home displaying
connection breaks and other USB port errors
Users recommend buying an additional USB 3.0 controller and trying to connect the glasses to the port on the motherboard. What's more, you need to get into the Windows device manager and in the power settings of the USB controller uncheck the item "Enable this device to be turned off to save power". If nothing helps, then the manufacturer recommends replacing the motherboard. And this is one more argument in favor of the fact that before buying Oculus Rift you should seriously evaluate the capabilities of your PC.
Gigabyte Z170 ATX Gaming 7
ASUS Z170 DELUXE
ASUS Z97 PRO GAMER
MSI Pro Solution Z170A
ASUS ROG MAXIMUS VIII FORMULA
Problems with SteamVr.
Problems with the software are most often related to connecting via SteamVR: for some games Beta Update is needed, and for others you need a stable program version. It is hoped that in the future compatibility problems will decrease as updates are made. Also some problems with the control and management in some games intended for HTC Vive were noticed — it's all about the lack of buttons on the Oculus Touch controllers.
Problems with the cable.
Any wired VR headsets are prone to problems with the cable connecting the headset to the PC. It can fray and damage HDMI and USB ports, so buying a TPCast wireless unit or using a wire clip will be helpful.
Finally, the common object of attention for VR devices is
user health problems
that can arise during games. Although Oculus users complain much less than those who played, for example, in PS VR, some action games can cause nausea and dizziness.
Eve: Valkyrie
Alice VR
The Climb
Edge of Nowhere
Adr1ft Chronos
Project Cars
Feedback on Oculus Rift
Users mention that there is almost no difference in the graphics between Oculus Rift and HTC Vive, but Oculus tracking is slightly less perceptible than in its competitor. Among the advantages the convenient fastening of glasses and built-in headphones are also mentioned. When you play for a long time in the headset it can be hot because of a warm padding, so it is better to keep a headscarf or napkins near by and take regular breaks.
It is possible without any problems to play wearing small-sized glasses — the level of visibility is slightly lost because of this, and the level of visibility of the HTC Vive competitor when playing while wearing glasses is felt to be larger despite the declared general indicators.
Buying Oculus Rift can make sense if there is a powerful gaming PC, but there is no desire to spend too much money on HTC devices. In this case, a user gets access to a wide database of games and enjoys unlimited tracking of hands and head in VR.
Oculus Rift CV1 - Alternatives
Showing 1-10 of 10 items.
Brand
Oculus
HTC
HTC
Lenovo
Model
Rift CV1
Vive
Vive Pro
Explorer
Min. price
USD

399

USD

499

USD

799

USD

487

Release
2016/04/28
2016/04/05
2018/04/05
2017/10/04
Usage
For PC
Design
Body
Total weight
470 gram
470 gram
555 gram
380 gram
Body weight
450 gram
512 gram
380 gram
Dimensions
185×102×95 mm.
Display
Type
Availability
Type
OLED
PenTile OLED
AMOLED
LCD
Size
Size
3.54 inches
3.6 inches
3.5 inches
2.89 inches
Field of view horizontal
110 °
110 °
110 °
110 °
Resolution
Resolution
1200×1080 px.
1200×1080 px.
1440×1600 px.
1440×1440 px.
Features
Latency
22 ms.
Refresh rate
90 Hz.
90 Hz.
90 Hz.
90 Hz.
Adjusting
IPD
Focal length
Lens spacing
58-72 mm.
System
Operating system
Minimum system requirements
8 Гб оперативной памяти; ОС Windows 7 SP1; 3 порта USB 3.0; порт USB 2.0; разъем HDMI 1.3.
GPU: Nvidia GeForce GTX 970 или AMD Radeon R9 290; CPU: Intel Core i5-4590 или AMD FX 8350; Оперативная память: 4 ГБ или больше; Видеовыход: HDMI 1.4 или DisplayPort 1.2
GPU: Nvidia GeForce GTX 1060 или AMD Radeon RX 480; CPU: Intel Core i5-4590 или AMD FX 8350; Оперативная память: 4 ГБ или больше; Видеовыход: DisplayPort 1.2, USB 3.0 порт или более скоростной, Windows 8.1 или выше
Windows 10 – Creators Update, Intel Desktop i7 или AMD Ryzen 7 1700, NVIDIA GTX 980/1060 - AMD Radeon RX 480 (8GB), RAM - 16 Гб
Synchronization
Windows
Support
SteamVR
Oculus Home
Windows Mixed Reality
Viveport
Camera
Front camera
Number
1 pc.
2 pc.
2 pc.
Multimedia
Sound
Headphone input 3.5mm
Microphone
Features
Conrol
3DoF Turning head
Tracking
3DoF Rotation tracking
6DoF Positional tracking
Tracking area
2.5х2.5 meters
5x5 meters
10x10 meters
Applications
Integration
Games
2900
3500
3500
600
Interfaces
Wi-Fi
Wi-Fi
Video
HDMI
1.4
HDMI 2.0
DisplayPort
USB
USB
USB 3.0
USB 2.0
USB type-c
Charger connector
Display port support
HDMI support
Bluetooth
Version
4.0
Contents
Contents
Manuals
USB cable
2
HDMI cable
2
DisplayPort cable
HDMI repeater
1
Headphones
1
Motion controller
SteamVR Tracking
Gamepad
Lighthouse
2
2
Sensors
Accelerometer
Gyrosсope
Magnetometer
External position sensor in space
Proximity sensor
Indicator
Immersion

8

9

Interaction

9

9

Comfort

8

6

Ecosystem

7

7

Setup

6

6