Magic Leap One - Specification
General
Usage

For PC

For Smartphones

For quadcopter

Operating system

LuminOS

Dates

Announced

2017/12/21

Release

2018/08/08

Production

Country of production

USA

Design
Protection

Water Resistant

Dust resistant

Display
Type

AR - See-through

VRD

Size

Field of view horizontal

50

°

System
CPU

NVIDIA Parker SOC

64

Cores

2

Architecture

Denver 2.0

Auxiliary cpu

4 ARM Cortex A57 64-bit cores

Memory card

Card slot

Internal memory

Capacity

128Gb

Avaliable free memory

95Gb

RAM

8Gb

GPU - Video card

NVIDIA Pascal

Support

SteamVR

Google Play

Oculus Home

Windows Mixed Reality

Daydream

Gear VR

Viveport

Interfaces
Video

HDMI

HDMI 2.0

DisplayPort

Connection

NFC

Samsung pay

FM Radio

Infrared port

Wi-Fi

802.11ac/b/g/n

Dual-Band

Hotspot

AV in/out

Wi-Fi Direct

VoWiFi

Bluetooth

4.2

USB

USB

USB type-c

MicroUSB

Display port support

Display port params

HDMI support

Multimedia
Sound

Headphone input 3.5mm

Microphone

Power
Battery

Li-Ion

Replaceable

Charger

Magnetic charger

Wireless charger

Battery life

Average time

3

hours

Features
Notifications

Vibration

Conrol

Buttons

Tracking

3DoF Rotation tracking

6DoF Positional tracking

Lighthouse laser tracking

HTC Lighthouse

Outside-In Tracking

Inside-out tracking

AR Tracking

Contents
Contents

Manuals

1

USB cable

2

HDMI cable

DisplayPort cable

HDMI repeater

Charger

2

Headphones

Motion controller

1

Gamepad

Сloth to remove dust

1

Power cable

1
Magic Leap One overview
Magic Leap One
is a mixed reality headset and the first serious competitor of Microsoft Hololens with improved graphics of holograms and hand movements tracking, but still at a high price which is inaccessible to the majority of ordinary users. The device combines in itself a stand-alone gadget and high performance, but raises a lot of doubts about the uniqueness of the technologies applied.
The Magic Leap start-up was established in Florida in 2010. The main idea was to commercialize and to spread widely the technology of augmented (mixed) reality. Thanks to this, it was possible to attract more than 2
USD
billion of investments from the largest electronics corporations, including Google and Qualcomm. The device went on sale on August 8, 2018.
Pros of Magic Leap One
Advanced technology.
Mixed reality offers its user a truly unique experience of immersion in a world where objects of the virtual world are superimposed on a familiar interior.
Individual optics.
The headset can be optimized for each user when it is ordered in accordance with the features of the person's vision.
A stand-alone device.
The device does not require connection to the PC and base stations, and the processor unit (Lightpack) can be carried in your pocket or belt. It is a mobile hybrid of completely stand-alone Hololens or Oculus Go and WMR devices working from the laptop behind your back.
There are no hidden costs.
A user does not need a powerful PC or a large room for the game. Everything is already in the kit. It has even its own OS.
Light weight and convenience.
It is one of the lightest and ergonomic AR and VR devices.
Cons of Magic Leap One
A high price.
At the beginning of sales, the Creators Edition version costs 2,295
USD
. It is cheaper than Development Suite from Hololens, but it is still not affordable for a mass buyer.
Not very impressive graphics.
Since the advent of mixed reality devices two years have passed, but the first users were not impressed with the quality of Magic Leap objects despite active marketing and a great advertising campaign.
It cannot be used with your own glasses.
The distance between the display and the user's eyes is too small and the headset is firmly and tightly set on the nose bridge, so you will either need to use contact lenses or to wait for the opportunity to order the built-in optics from Magic Leap.
Few applications and games.
The headset was just launched recently and it uses its own OS, so at first you'll have to use pre-installed programs.
There are no memory card slots.
Despite the minicomputer that you always need to carry in your pocket, there is no room for additional memory in it which in the future with the growth in the number of applications can be a problem.
Main competitors of Magic Leap One
Microsoft Hololens is the most popular and successful stand-alone mixed reality headset released in 2016. Among its benefits a large number of professional applications can be mentioned. As for the drawbacks, it is even more expensive.
Meta 2 is a more heavy headset model which only works in conjunction with a PC or laptop. It falls behind both in ergonomics and performance.
Google Glass 3.0 is a very hypothetical competitor because this headset is able to transfer virtual reality to the user's retina, but it does not connect it to the real space.
Magic Leap One design and ergonomics
Almost all people who have already tried Magic Leap One mention the great convenience in the headset usage and a really attractive and extraordinary design. It is difficult to recall at least one VR headset which would at least slightly resemble Magic Leap in design. The headset is attached to the head with a three-part expanding ring which is really convenient in comparison with the WMR or Hololens clip-on mounts and even more convenient compared with so-called 'mountain skier masks' like in Vive or Oculus.
The Magic Leap headset itself is called Lightwear and it really corresponds to its name. The headset does not pull the head down like other VR devices, so you can wear it for a long time. The headset combines in itself several built-in components:
sensors
cameras
two lenses that are made specifically for a user
dynamics — 3D audio system called Spatial Audio is designed for virtual reality and allows a user to understand more quickly the location of objects in games;
a 3.5 mini-jack for your own headphones;
a microphone
In addition to the headset, it is worth mentioning the processor unit Lightpack which is almost no bigger than a baseball ball in size and can be easily put into the pocket.
Magic Leap One display and lenses
The most 'juicy' part of Magic Leap One is, of course, stylish protruding round lenses. They are unique in each device and are made to order according to the user's vision. This is an advantage and a disadvantage at the same time. On the one hand, you can play without glasses, but on the other hand, each device turns out to be highly personalized and customized and it will be difficult to use it even with friends — there is no space for prescription glasses.
It is assumed that in the future the device will be sold in two sizes to accurately match the interpupillary distance of every user. The same is true about nose pads which can also be selected individually.
The holograms image quality is better than that of Hololens or Meta 2, but it is too early to speak about the realism and clarity of virtual objects. The text is blurry, the objects are slightly transparent and sometimes tremble in space. In addition, the viewing angle is only 50 degrees, so you can see only the holograms directly in front of you. Even if there are a lot of virtual objects in the room, you can see them only in a small rectangle in front of you — this is a virtual screen of Magic Leap.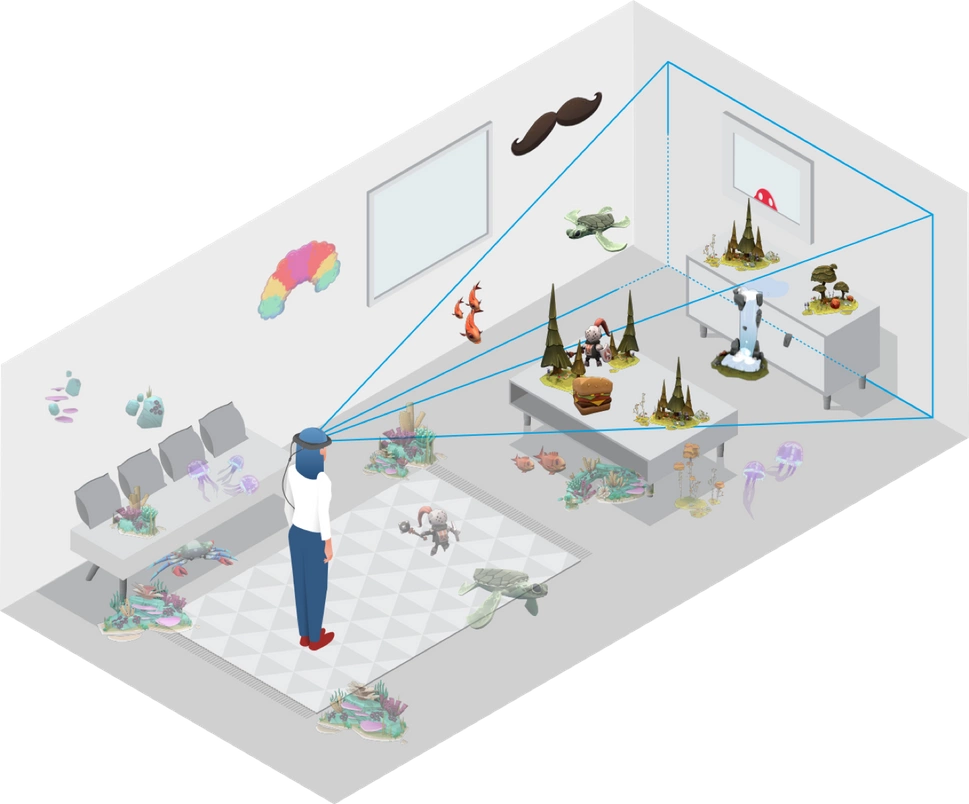 All this makes especially active games in Magic Leap One impossible, and in comparison with Hololens in terms of graphics and the screen the device wins very little.
Magic Leap One controllers
| The time of stand-alone work | Up to 7,5 hours |
| --- | --- |
| Connection type | Bluetooth |
| Charging / updating type | USB-C (15 W) |
| Elements of control | 3 |
| The number of sensors | 12 LEDs |
The Magic Leap One's Control controller has rounded edges and it is comfortable to hold it in the hand. Taking into account that hand movements tracking leaves much to be desired, the controller is very important to control the device. In terms of the quality of tracking controllers are very similar to those from HTC Vive — the loss of tracking is possible, but failures occur very rarely. What's more, it has built-in vibration, and a small loop should protect it from falling.
How does Magic Leap One work?
The device displays are made with the help of the virtual retinal monitor (VRD) technology which draws a raster display directly onto the retina of the eye. In the headset the technology of pupils tracking is used, so objects of virtual reality 'know' what exactly a user is looking at.
The sensors are located directly on the headset.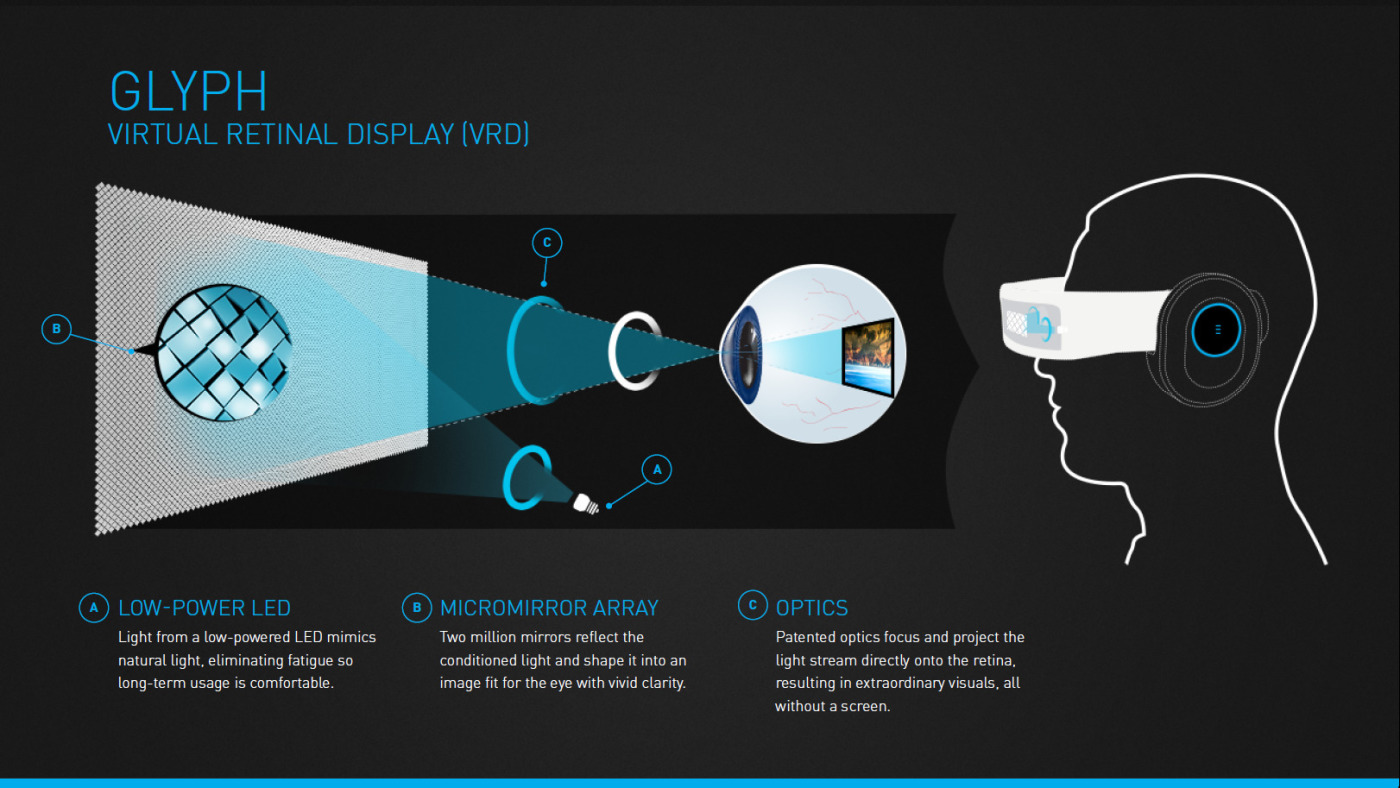 Sound in Magic Leap One
In addition to a standard headphone output, it is necessary to mention the built-in speakers that are located on the inside of the mount. They are designed for 3D audio and create the effect of finding the source of sound directly in the room. On the basis of the feedback, the quality of the built-in sound system is one of the best among virtual reality headsets.
Sensors and gaming space of Magic Leap One
The device supports the 6 DoF tracking of the headset, hands and controller, so you can move around the room without constraints and looking at the wires or base stations. The main disadvantage is the viewing angle. Because of this a visible gaming space is a pyramid with a rectangular base emanating from the user's eyes.
There are also some objects outside it, but they are invisible to a user until he/she points the headset at them. In addition, the headset is darkened around the edges which slightly reduces the interaction with the real world, the lateral vision is lost.
For the rest, the gaming space can be created in any not very dark, not too light and not too big room, so the headset is suitable mainly for indoor games. If a user has already tried to play in the familiar space before, then its borders will have to be corrected only, but not created anew. More details about creating the gaming space are given below.
Installation and configuration of Magic Leap One
Before you start using Magic Leap One, you need to create a gaming space inside your room. This is done semi-automatically, and in order to do this you need to perform several operations:
To choose a suitable room;
To put on the headset and turn it on;
To launch the required application;
To look at the points that will appear in different parts of the room. The device will cover each static room object with a 'grid' putting them inside the virtual reality;
An error in identification can occur if the wall, ceiling or other object is too far away;
The headset will take into account all static objects and make them part of the gaming space
Software for Magic Leap One
The processor unit is equipped with a completely new OS created specifically for VR headset —
LuminOS
. The main screen provides a selection of pre-installed basic programs:
Project Create is a creative program for creating 3D objects and animations inside your room. Virtual animated objects can be arranged around the room, touched, thrown, interconnected or even used as tools. Objects are able to interact with each other. It looks a bit like the editor of Minecraft, but you can play directly at your kitchen table.
Avatar Chat is a social space where you can interact with virtual models of other users. The avatar responds to the movements of the user's hands, fingers and eyes.
Helio is an ambitious web browser for integrating virtual network objects into the mixed reality of Magic Leap user. You can take an image from a third-party website and try to inspect an object from all sides in your real room. It works unstably now, but technology has a great future in retail and education.
Tónandi (it means 'the spirit of music' in Icelandic) is an application for viewing and controlling of musical visualizations in 3D. Music can be controlled by moving objects, spirals, fireballs and waves. You can twist them into bizarre shapes and the music will change. Now the program is more demonstrative and is aimed at demonstrating the potential of Magic Leap One.
Screens is a program that allows you to watch several videos at the same time while being inside your real room. It looks like a house in Windows Mixed Reality, but only everything happens on the basis of the real world.
Gallery is an application for viewing photos, created 3D-models or videos.
Invaders is the only so far available shooter in the steampunk style where you have to shoot robots that will climb on you from your own sofa or closet.
Third-party programs and games are not available yet since the operating system is completely new — they just have not been created yet.
Technical characteristics of Magic Leap One
Processor
NVIDIA® Parker SOC; 2 Denver 2.0 64-bit cores + 4 ARM Cortex A57 64-bit cores
Graphics adapter
NVIDIA Pascal™, 256 CUDA cores
RAM
8 GB
Hard disk
128 GB ( 95 GB is available)
Power
Li-Ion battery
Stand-alone work
Up to 3 hours
USB
USB-C
Bluetooth
4.0
WiFi
802.11ac/b/g/n
Graphical user interface

OpenGL 4.5, Vulkan
OpenGL ES 3.3+

OS
LuminOS
Packaging and arrangement
The Creators Edition complete set (for developers) is still available for purchasing only on the Magic Leap official website with delivery to the indicated address in the United States. During the delivery, staff members measure the distance between the user's eyes and provide him/her with the most appropriate headset. There are two available sizes.
The complete set includes the following devices:
Magic Leap Lightwear — augmented reality headset;
Magic Leap One Control — one wireless monitored controller + a power supply unit and a strap for it;
Magic Leap One Lightpack — a block where the central and graphic processors are integrated, so you can say that the headset is semi-autonomous: it is not yet Oculus One in the configuration, but it is no longer PlayStation VR. In fact, this is a small PC that a user wears in his/her pants. The unit is also equipped with a built-in battery and a charger;
2 USB-C cables for connecting the controller and the headset;
AC cable;
A cloth for the headset cleaning;
Replaceable linings for the headset (Fit Kit);
A one-year warranty;
A belt for fixing the Lightpack mini-computer on the shoulder.
Purchasing of the Creators Edition version includes a membership in the development team for Magic Leap (Publisher Membership) and allows you to download your own created applications to the Magic Leap World server.
Accessories and additional devices of Magic Leap One
Third-party accessories have not come out yet, but good news is that the most important replacement parts of the device are available on the
official website
:
Hub (60

USD

) is a useful device that allows you to connect the headset to both the Lightpack mini-computer and to the power supply unit. It is regarded as a device for developers, but it can be useful for users who want to use the headset for a long time. The kit includes a USB-A cable on Micro-B.
A controller (290

USD

)
The set of face pads (40

USD

)
A belt for fixing the minicomputer (30

USD

)
A charger for a mini-computer for 45 W (60

USD

)
A charger for a 15 W controller (40

USD

)
For 600
USD
you can also purchase a priority service package that includes access to developer tools, beta programs, developers' conferences and support for hosting your own software.
Reviews about Magic Leap One
It's too early to talk about the experience of the headset usage, but most of the responses are centered around the comparison between Magic Leap and Microsoft Hololens. Users note:
the graphics has become a little better, but Hololens was released two years ago, so there was no qualitative leap;
the device is more convenient and pleasant;
the device still represents an experiment in its essence, despite the attempt to create a mass-market device.
The verdict for Magic Leap is encouraging, but, of course, the company expected more. As for the augmented reality, now it is the most advanced device on the market with very few number of applications, so it's worth buying only if you are a fan of advanced technologies. Hololens models are time-tested and have a set of applications and can be suitable for those who immediately want to have a choice from different applications.
In any case, it is worth waiting for the release of the new software and first reviews of ordinary users after a couple of months of using Magic Leap One.
Magic Leap One - Alternatives
Showing 1-2 of 2 items.
Price
Product
Photo
USD
Title
px.
Angle
Hz.
MP
Gr.
USD
Title
4,412
Microsoft HoloLens
1268×720
30°
60
2 pc.
579
2,204
Meta 2 DK
2560×1440
90°
60
1 pc.
500
Brand
Magic Leap
Microsoft
Meta
Model
One
HoloLens
2 DEVELOPMENT KIT
Min. price
USD

4,412

USD

2,204

Estimated price
Announced
2017/12/21
Release
2018/08/08
2016/03/30
2016/12/20
Production
Country of production
USA
Usage
For PC
Design
Body
Total weight
579 gram
Body weight
579 gram
500 gram
Display
Type
Availability
AR - See-through
Type
VRD
Size
Aspect ratio
16:9
Field of view horizontal
50 °
30 °
90 °
Field of view vertical
17 °
Resolution
Resolution
1268×720 px.
2560×1440 px.
Features
Refresh rate
60 Hz.
60 Hz.
Power
Battery
Type
Li-Ion
Capacity
16500 mAh
Battery life
Average time
3 hours
5.5 hours
System
Operating system
Operating system
LuminOS
32-bit Windows 10.0.11802.1033
Minimum system requirements
Intel Core i7, NVIDIA GTX 960 / AMD R9 280, 8GB RAM, USB 3.0, HDMI 1.4b, Intel HD-совместимая звуковая карта, Windows 8.1 64-bit
Synchronization
Windows
10
Support
Windows Mixed Reality
Internal memory
Capacity
128Gb
64Gb
Avaliable free memory
95Gb
RAM
RAM size
8Gb
2Gb
CPU
Model
NVIDIA Parker SOC
Intel Atom X5-Z8100
Bit
64
Cores
2 Cores
Architecture
Denver 2.0
Auxiliary cpu
Auxiliary cpu
4 ARM Cortex A57 64-bit cores
GPU - Video card
Model
NVIDIA Pascal
HoloLens Graphics
Memory
114Mb Mb
Camera
Front camera
Resolution
720 MP
Number
2 pc.
1 pc.
Features
Video recording
Multimedia
Sound
Headphone input 3.5mm
Microphone
Features
Notifications
Vibration
Conrol
Buttons
3
Voice control
3DoF Turning head
Tracking
3DoF Rotation tracking
6DoF Positional tracking
Tracking area
Inside-out tracking
AR Tracking
Applications
Integration
Games
600
Interfaces
Wi-Fi
Wi-Fi
802.11ac/b/g/n
Video
HDMI
1.4b
USB
USB
USB 3.0
USB type-c
Charger connector
Bluetooth
Version
4.2
Contents
Contents
Manuals
1
USB cable
2
Charger
2
Headphones
Motion controller
1
Сloth to remove dust
1
Power cable
1
Sensors
Accelerometer
Gyrosсope
Magnetometer
External position sensor in space