The augmented reality headsets
are devices that allow to use the real world as a basis for interacting with objects of virtual reality. The augmented reality technology is at the very beginning of making its way in the mass market, therefore headsets that support this function are considered to be the most advanced and exclusive devices on the market.
Advantages of augmented reality headsets
Stand-alone devices.
For the majority of headsets no additional accessories or devices are required.
No negative effects on health.
Augmented reality does not cause nausea or severe fatigue because all objects of the virtual world are visually integrated into the real one.
Promising technology.
Augmented reality headsets are actively used in industry, medicine and scientific research. The amount of professional software is growing from year to year.
Unlimited gaming space.
Most of the AR devices could be used on a bigger playground without base stations or external sensors.
Practical use
. AR headsets are helpful in different situations: for reading morning newspapers in public transport, for choosing the right route during the biking, for browsing the web etc.
Disadvantages of augmented reality headsets
A very high price.
The cost can reach several thousand dollars.
There are few games.
The devices are oriented towards business, industry and science, so they are not suitable yet for active gaming, and online stores are filled with application demos.
Problems with support and updates.
Manufacturers rely on the professionalism of gadget users, so you'll have to deal with the software and setting up by yourself.
Low resolution
. Graphics leave much to be desired even in the latest models.
Problems with tracking
. Inside-out tracking technology is still worse than external hand movement tracking from base stations.
The comparison of augmented reality headsets
Showing 1-18 of 18 items.
Price
Product
Photo
USD
Title
px.
Angle
Hz.
MP
Gr.
USD
Title
1,796
Google Glass 3.0
640×360
13°
36
4,412
Microsoft HoloLens
1268×720
30°
60
2 pc.
579
2,204
Meta 2 DK
2560×1440
90°
60
1 pc.
500
4,562
Epson Moverio Pro BT-2200
960×540
23°
60
270
350
Epson Moverio BT-100
960×540
23°
60
220
898
Epson Moverio BT-200
960×540
23°
60
88
956
Epson Moverio BT-300
1280×720
23°
1 pc.
69
1,560
Epson Moverio BT-350
1280×720
23°
1 pc.
119
4,726
Epson Moverio Pro BT-2000
960×540
23°
60
290
2,295
Magic Leap One
50°
1,099
Vuzix Blade AR
800
Optinvent Ora-2
90
400
Garmin Varia Vision
428×240
29.7
499
Solos
10.68°
65
649
Everysight Raptor
13.2 MP
98
2,750
ODG R-7 Smartglasses
30°
4 MP
180
1,000
ODG R-8 Smartglasses
40°
5 MP
140
1,800
ODG R-9 Smartglasses
50°
13 MP
180
Control in augmented reality headsets
Control via wireless controllers with movements tracking is just started to be introduced in the augmented reality headsets — this technology is only available on Magic Leap. Prior to the advent of Magic Leap, controllers were simply not needed because the headset was not considered to be a gaming and a mass-market gadget, so there were no opportunities for gaming development. It was also related to the hand gestures control, although this technology is in the process of improvement and refinement.
Depending on the model, headsets can be controlled by voice, eye pupils movements, through the touchpad or buttons located directly on the headset.
Mixed, augmented and virtual reality
Mixed reality is a general concept of the world that appears at the interface between the real and the virtual world. It includes augmented reality and augmented virtuality, so sometimes you can hear the name 'mixed reality headsets', and Microsoft called its platform Windows Mixed Reality aiming at the future development of technologies that will allow to combine the two realities together.
Augmented reality is a subcategory of mixed reality. Objects of the virtual world on the device screen are oriented directly towards objects of reality integrated inside the virtual space.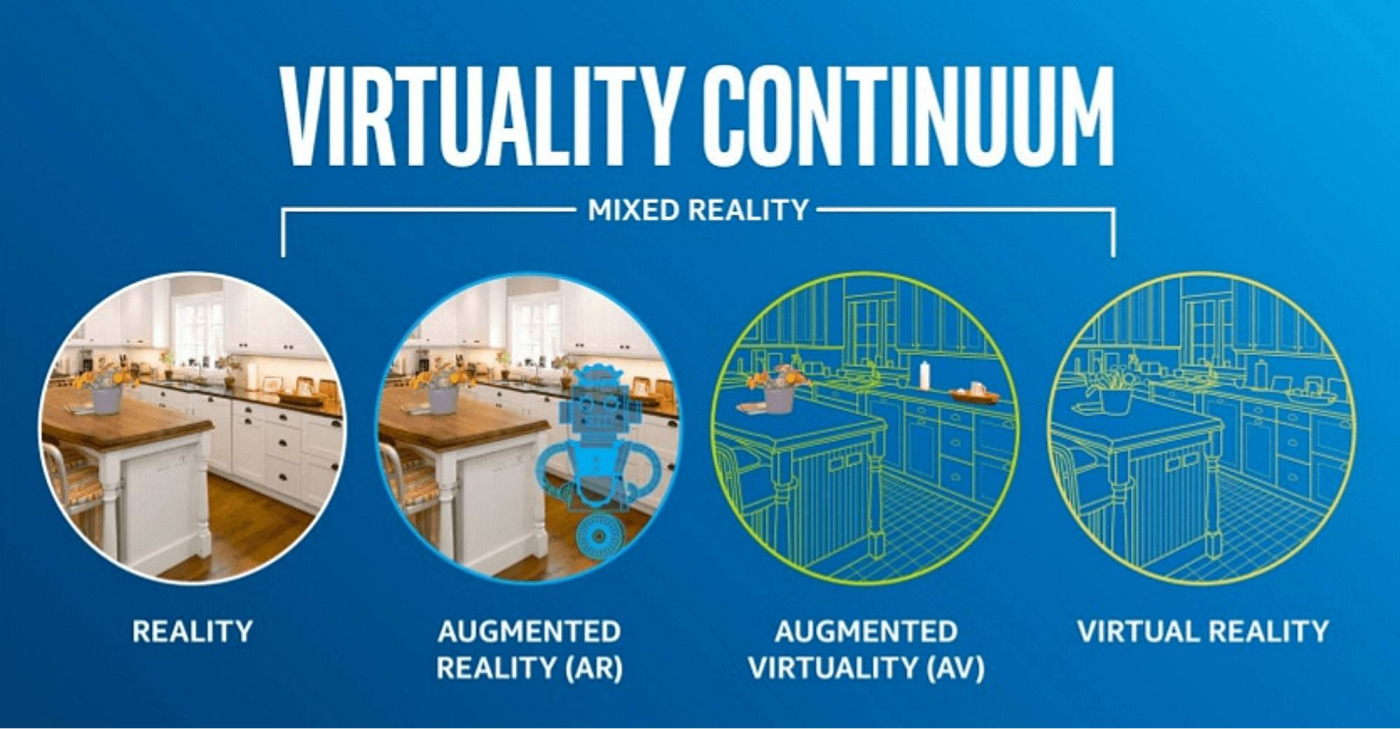 Augmented reality headset technology
In some cases, augmented and mixed realities are contrasted with each other. This simplification allows you to quickly understand the set of functions of different devices. For example, Google Glass and Epson Moveiro are regarded as augmented reality headsets because the information for a user only 'supplements' the real world:
virtual objects do not rely on objects in space;
the screen transmits basic information directly to the user's pupil;
only mini-games are available, and control is very limited.
Magic Leap, Microsoft Hololens and Meta 2 are sometimes also called mixed reality devices because:
virtual objects depend on the location of real objects;
for the user's perception, 3D objects are integrated in the real world and look like its constituent parts;
games are approaching VR devices, the control is becoming more realistic.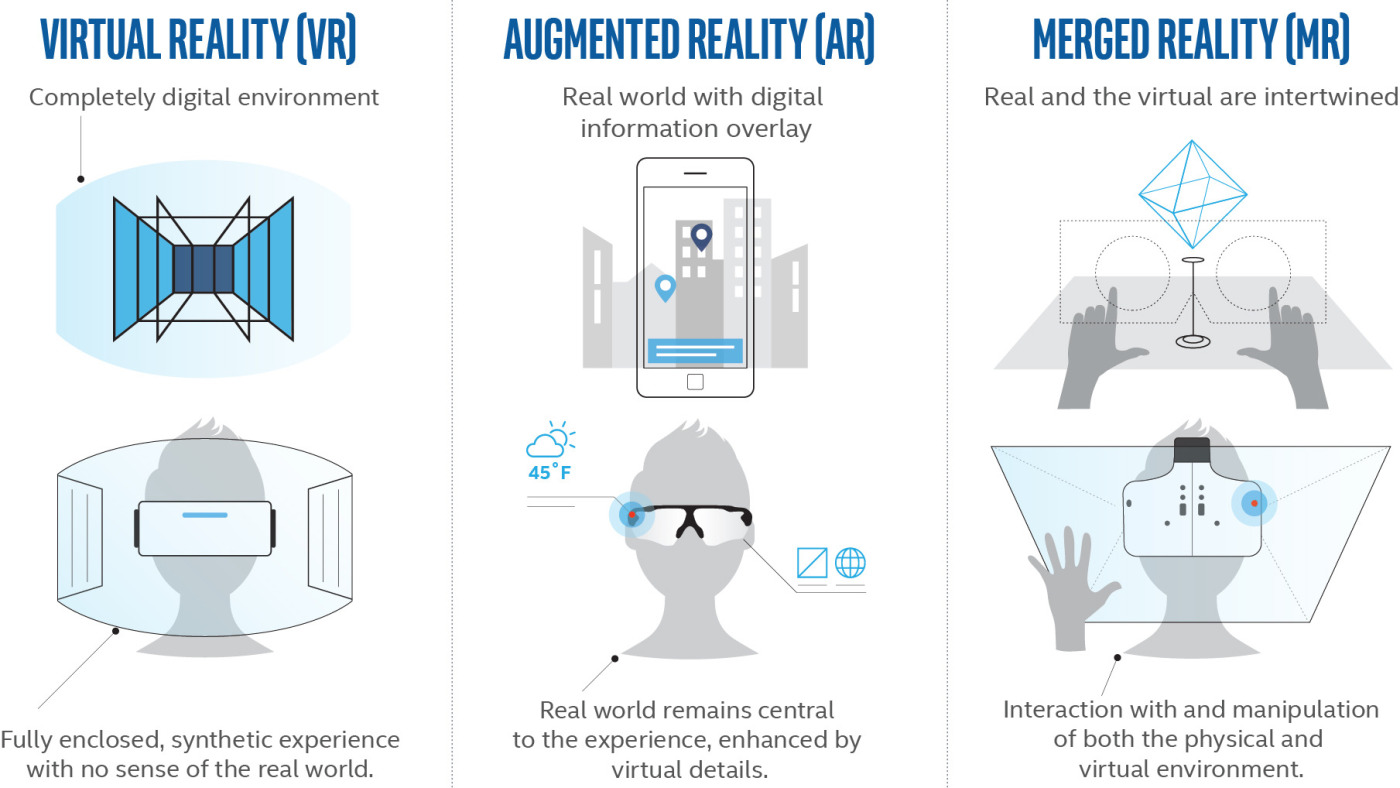 The future of augmented reality headsets
Marketing managers are actively interested in these technologies. In the future, viewing of goods will be carried out through such headsets which will significantly increase their attractiveness and sales.
By 2020, the augmented reality headset market can reach 100 billion dollars. Today there are more than 500 startups in the USA involved in the development of this technology.
It is expected that the Apple company will also try to find its place on the VR devices market and in the near future it will be able to release its own augmented reality headset.
Educational and train software will be the most popular in AR three years after.